Manchester Physio make the following promises to achieve shared aspirations.
Putting patients first
We promise to put patients first in everything we do. We put each patient's needs at the centre of all decisions and everything we do will be done in the best interest of the patient. We accept that some people need more help, and that not all goals will be realised, however, we strive to achieve the best possible results for each of our patients in all circumstances.
Respect and dignity
We promise to value each person as an individual, respect their aspirations, beliefs, commitments, and seek to understand their priorities, needs, abilities and limitations. We take what others have to say seriously. We are honest about our point of view and what we can and cannot do.
Improving lives
We promise to strive to improve health and well-being and people's experiences of physiotherapy. We value excellence and professionalism wherever we find it - in the everyday things that make people's lives better as much as in clinical practice, service improvements and innovation.
Commitment to quality
We promise to earn the trust placed in us by insisting on quality and striving to get the basics right every time: safety, confidentiality, good communication, professionalism, and a dependable service. We welcome feedback, learn from our mistakes and build on our successes.
Compassion
We promise to respond with kindness to each person's needs, anxieties, pain, and desires. We search for the things we can do, as even the smallest things can make the biggest differences. We do not wait to be asked, because we care.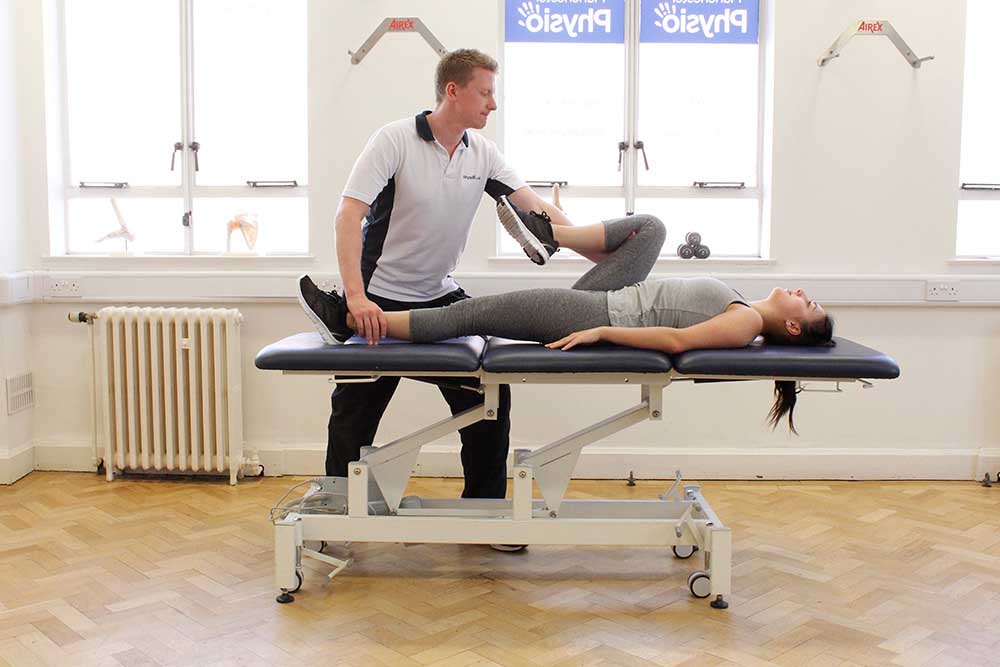 Above: Stretches to the hip and knee conducted by a musculoskeletal physiotherapist
To arrange an appointment
book online
, call now on
0161 883 0077
or email:
office@manchesterphysio.co.uk