Fingers are easily injured and broken in everyday activities and sporting activities causing pain and swelling and can significantly interfere with writing, gripping, cooking, household activities or placing weight through the affected hand and fingers.
What causes a broken finger?
A broken finger commonly occurs in contact sports such as basketball or netball when the finger is bent forcefully in the wrong direction (such as a hyperextension force or a sideways force. A broken finger may also be caused by a collision with another person or falling onto the hand.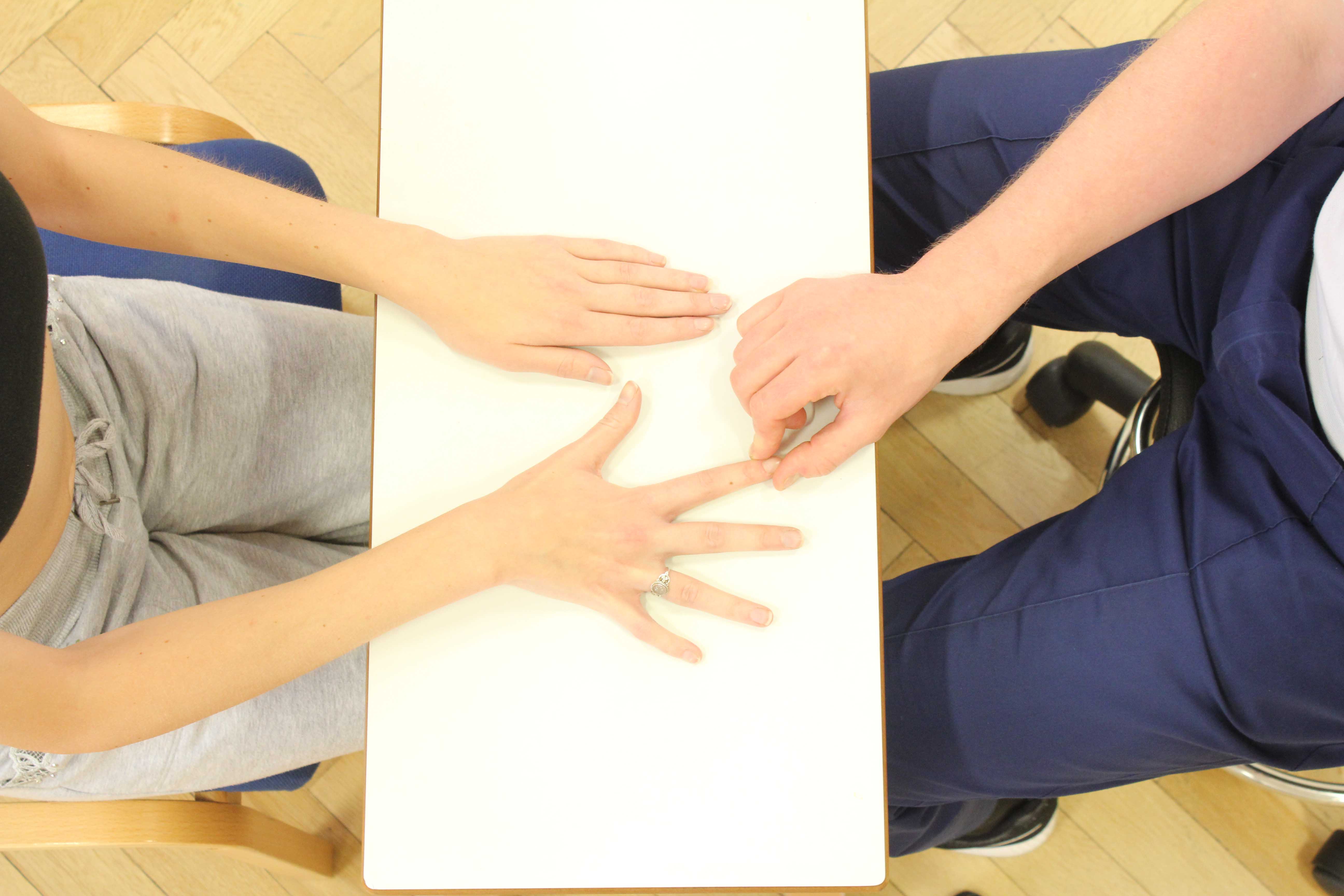 Above: Examination of finger following the early stages of bone healing
What are the symptoms/effects of a broken finger?
Symptoms of a broken finger include sharp pain and sometimes a deformed finger. As time goes on, swelling and bruising of the finger will occur and the finger will become stiff to move. Swelling is not as specific as pain and therefore may affect the adjacent fingers as well.
Diagnosis of a broken finger
If you suspect you have broken you finger you should seek medical attention. A thorough subjective and objective examination from a physiotherapist or doctor will diagnose a dislocated finger. X-rays will also be taken to assist with diagnosis.
Treatment for a broken finger
Treatment for a broken finger usually involves immobilisation in a small splint for between 2 to 4 of weeks to allow the bone to heal.
If your finger is out of position, the deformity may need to be corrected, or "reduced." This is usually done under local anesthesia. The finger is then put back in place to correct the deformity and a splint is applied for 4 weeks.
If the fracture has is unstable, or if the deformity cannot be corrected, then surgery may be necessary to realign and hold the broken fragments in place. Pins, plates, and screws can all be used to hold the fracture in the proper position.
Physiotherapy for a broken finger
Physiotherapy treatment at Manchester Physio should start as soon as possible with gentle range of movement exercises to keep you finger strong and flexible.
Following surgery or once the splint is removed, your physiotherapist at Manchester Physio, will assess your range of movement, strength and function in order to develop an individualised treatment program which may include:
Ice therapy and ultrasound to reduce swelling and pain
Passive stretching to lengthen tight muscles
Soft tissue massage to reduce stiffness
Advice about how to modify everyday activities and prevent re-injury
Progressive exercises program for your finger and hand to improve flexibility and strength and maximise function.
Your individualised rehabilitation program at Manchester Physio will improve stability of the finger joint, prevent re-injury and get you back to everyday and sporting activities safely and effectively.
Your physiotherapist at Manchester Physio will tailor activities to you and your hobbies and will ensure that your finger is returned to its original function and strength as soon as possible.
For more information about physiotherapy for a broken finger, or to book an appointment please call
0161 883 0077
.