Manchester Physio is a private physiotherapy practise which specialises in neurological conditions and musculoskeletal injuries. We also work closely with other health professionals such as occupational therapists, podiatrists and orthotists to provide the best possible treatment.
Physiotherapy is a healthcare profession which helps individuals with a variety of conditions, improve their physical function. Physiotherapy treatment enhances independence with functional and sporting activities following injury, illness, or ageing. Physiotherapists use a combination of treatment techniques to improve mobility and increase muscle strength, range of movement, balance and posture.
Physiotherapy concentrates on an individuals physical function such as problems that affect muscles, bones, heart, circulation and lungs. Physiotherapists help maximise an individuals physical potential and independence with everyday tasks. Physiotherapy involves a range of treatments, including, exercise, electrotherapy, joint manipulation, massage and hydrotherapy.
Physiotherapists help children and adults from different cultural, psychological and social backgrounds that may have complex rehabilitation needs. Physiotherapy also promotes positive lifestyle behaviors by teaching individuals to self manage their condition which improves confidence, sense of well being and quality of life.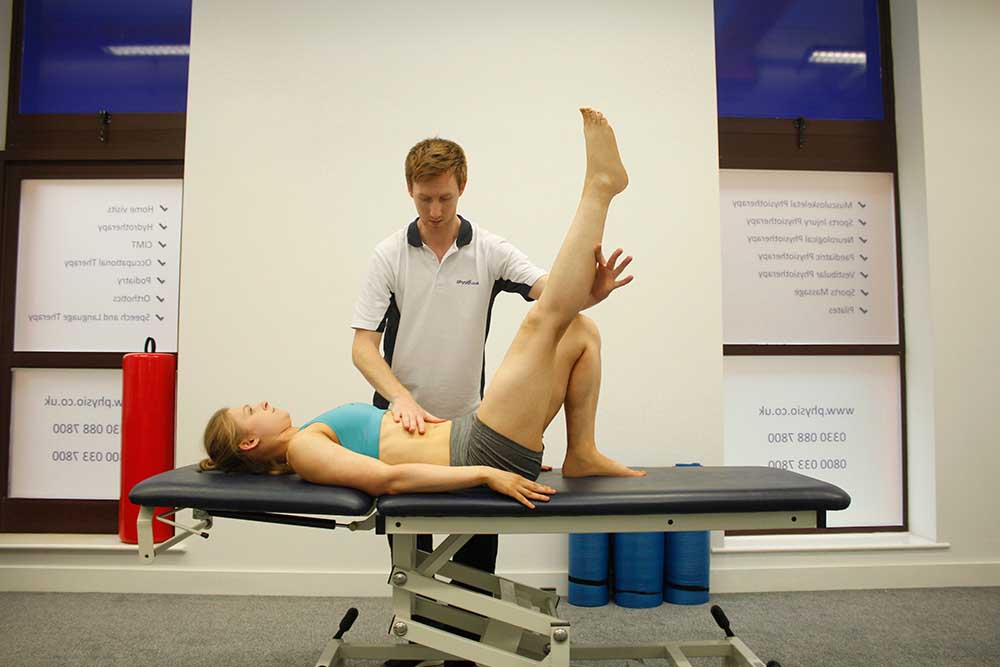 Above: Passive stretch applied by physiotherapist to calf and hamstring muscles
Physiotherapists work in many different areas which may include:
Musculoskeletal
Orthopaedics
Elderly Rehabilitation
Neurology
Intensive care
Women's health
Oncology
Mental Health
Learning difficulties
Paediatrics
Sports
Occupational Health
Research
Physiotherapists may work in hospitals, community, schools, sports clubs, private practices and industry.
Our specialised physiotherapists at Manchester Physio will provide individualised physiotherapy treatment tailored to your needs. Our physiotherapists are experienced at treating both children and adults with a wide variety of conditions.
For more information contact us now on
0161 883 0077
.