What is neurological rehabilitation?
Neurological rehabilitation can be used to help people who have a neurological condition. The aims of neurological rehabilitation are to:
Maximise quality of life
Maximise functional ability
Optimise independence
Realise and fulfil personal goals
What conditions would benefit from neurological rehabilitation?
If you or someone close to you is suffering from a progressive neurological disorder, or has experienced an isolated neurological event, our physiotherapists will be able to help. Conditions that may benefit from neurological rehabilitation include:
Ataxia
Brain tumour
Charcot-Marie-Tooth (CMT) disease
Cerebral Palsy
Cerebrovascular Accident (CVA - more commonly known as a stroke)
Chronic Inflammatory Demyelinating Polyneuropathy
Conversion disorder
Dementia
Developmental delay
Dyspraxia
Dystonia
Foot-drop
Guillain-Barr Syndrome (GBS)
Huntington's disease
Hydrocephalus (adult)
Late Onset Tay-Sachs disease
Motor Neuron Disease
Multiple Sclerosis (MS)
Muscular Dystrophy
Myasthenia Gravis
Myotonic dystrophy
Myotonia Congenita
Myopathy
Neurofibromatosis
Parkinsons Disease (PD)
Peripheral nerve injury
Peripheral neuropathy
Post Polio
Spinal cord injury
Spinal muscular atrophy
Transverse Myelitis
Traumatic Brain injury (TBI)
What symptoms can neurological rehabilitation help?
Walking problems
Muscle problems
Functional problems
Spasticity
Sensory problems
Fatigue
Pain
Movement disorders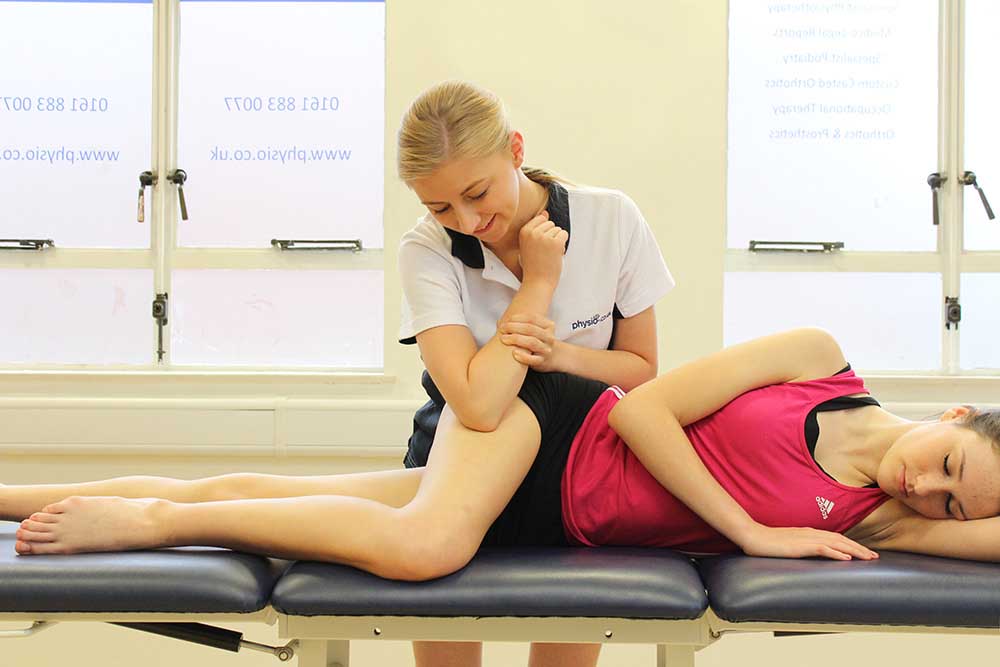 Above: One of our specalist neurological physiotherapists providing a stretch to a patient suffering with high tone.
Types of neurological rehabilitation
Neurological rehabilitation can take a number of approaches and use a variety of techniques to produce you a personalised plan focused on your personal goals. These include:
Bobath approach - Used to enhance functional movement, this relies on practicing movement patterns step by step with facilitation from our physiotherapists, then working to perfect each component.
Carr and Shepherd approach - Used to enhance functional movement, this involves practicing functional movements as a whole. This relies not on performing movements 100% correctly but repeatedly rehearsing them to achieve the goal.
Brunnstrom approach - Used to enhance functional movement, this approach uses combinations of movements to elicit muscular response
Conductive education - A unique learning experience which addresses the child as a whole to help them become more independent.
Gait re-education - Identification and correction of variations and compensations seen in walking.
Mobility rehabilitation - Developing a way to get round safely, should this be independently, or with a walking aid. Rehabilitation is also likely to include balance exercises to ensure you are as safe on your feet as possible.
Transfer rehabilitation - Developing techniques to make the transfers you fund difficult easier should this be standing from a chair, getting out of bed or rolling over in bed. The transfers will then be practiced until you are confident.
Contracture management - Releasing the tightened muscles, this may include splinting, casting or tilt-tabling.
Equipment and adaptations assessment - A home visit will allow our physiotherapists to identify any adaptations that can be made to make everyday life easier.
Constraint induced movement therapy (CIMT) - Following a stroke it is common for people to forget about their affected arm and just rely on their unaffected arm. CIMT aims to reverse this pattern by restraining the unaffected arm and undertaking an intensive exercise programme to encourage use of the affected arm.
Saebo Rehabilitation - Unique technology to allow enhanced function of an affected limb by means of a individually constructed orthosis.
Hydrotherapy - May incorporate exercises and gait education within a protected environment.
Acupuncture- An ancient technique that uses needles in specific locations in order to reduce pain.
Electrotherapy - Transcutaneous Electrical Nerve Stimulation (TENS) and Functional Electrical Stimulation (FES) may be used to reduce pain and promote muscle activity.
Falls prevention programmes - An individualised programme to help avoid falls and address concerns with regards to falling.
Why choose Manchester Physio?
Manchester Physio can offer treatment and advice at any stage of a neurological condition; sometimes early treatment is able to slow down the progression of a condition or prevent secondary complications. Our team of experienced physiotherapists will work with in establishing a personalised treatment plan aimed achieving personal goals and improving quality of life.
Other reasons you should choose Manchester Physio for your rehabilitation needs include:
Sessions can take place within fully equipped clinic or at your home,
No waiting lists so you can be seen as soon as required.
We are registered with all major insurance companies
Reports available on request
Hydrotherapy access if required
We can work alongside case managers in co-ordinating high quality care
Flexible appointment times - including evenings and weekends
Call Manchester Physio now on
0161 883 0077
for more information or to book an appointment please contact us.