Physiotherapy for spinal cord injury
At Manchester Physio we have specialised neurological physiotherapists who are experienced at providing assessment and treatment for people with a spinal cord injury (SCI). A person with a spinal cord injury will benefit from specialised neurological physiotherapy.
Physiotherapy treatment at Manchester Physio will depend on the level and severity of the spinal cord damage you have received and will therefore be specific to your needs.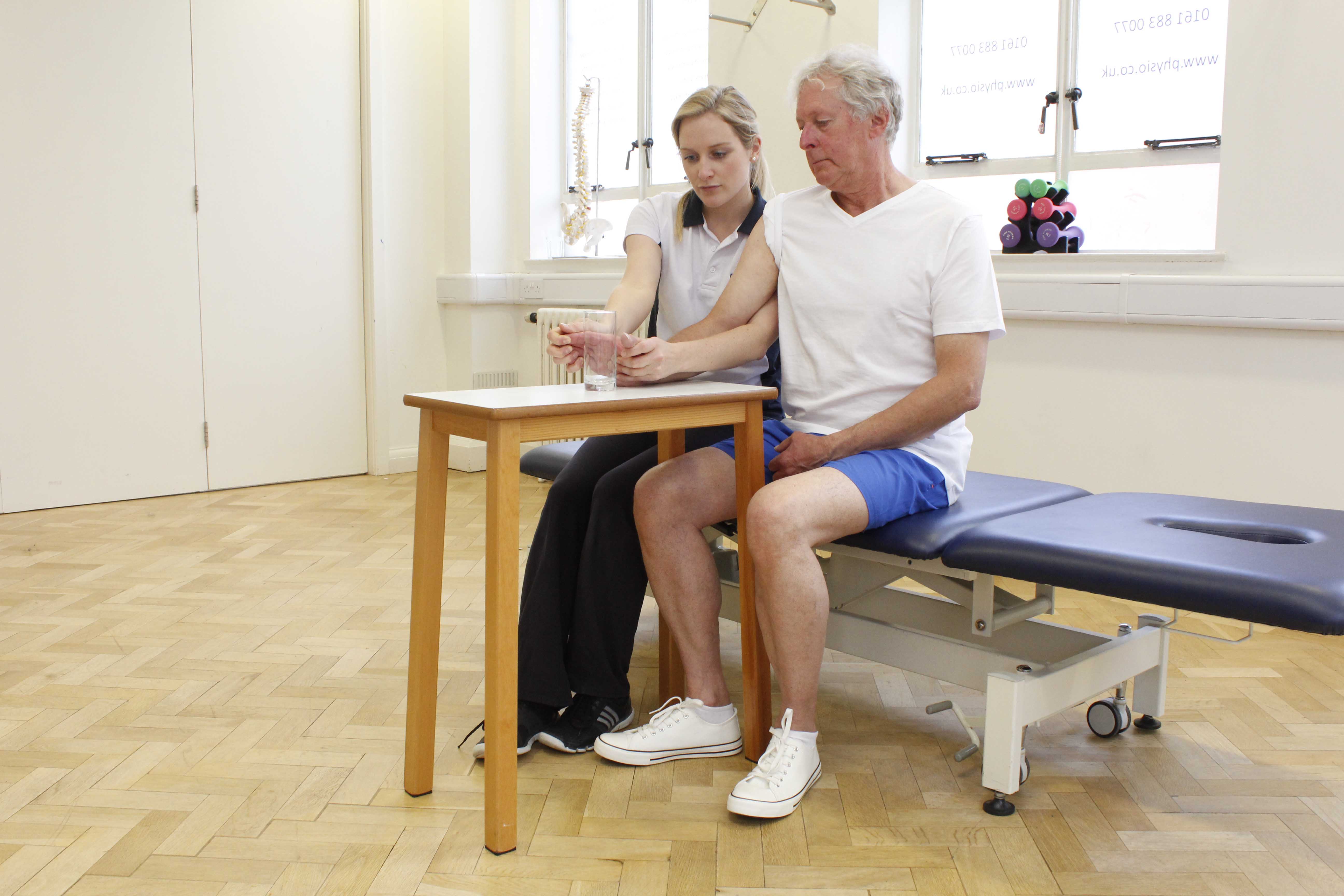 Above: Specialist neurological physiotherapist facilitating functional grip exercises
Benefits of physiotherapy for a spinal cord injury at Manchester Physio include:
Improving muscle strength and length
Regaining activity in a normal pattern
Improving posture
Managing pain
Increasing comfort and relieving stiffness
Reducing spasticity (increased reflexes and stiffness of the limbs)
Improving sitting and/or standing balance
Improving energy levels
Maintaining a clear chest
Promoting independence with everyday activities
Improving quality of life
Our motivated physiotherapists at Manchester Phyio will develop a treatment plan tailored around your specific needs and support and guide you throughout your treatment, to maximise your potential and promote your independence.
Physiotherapy treatment at Manchester Physio, will focus on encouraging whatever movement is possible and building on it through strengthening, stretching, sensory stimulation, positive reinforcement and visual feedback. Physiotherapy treatment will focus on:
Active and passive movement to increase muscle strength, maintain tissue length and range of movement and preventing muscles and joints from becoming stiff
Exercises to encourage normal patterns of movement
Regular standing to weight bear and improve function of internal organs
Exercises to increase control movement of the head, arms, trunk and legs.
Activities to improve balance and coordination
Advice on positioning to increase comfort and help posture in lying, sitting and standing
Teaching wheel chair skills if appropriate which includes pushing and turning the chair, operating the brakes, and removing the footplates and armrests
Breathing control and assisted coughing if appropriate to maintain a clear chest
Transfer rehab to improve safety and promote independence
Advice on orthotic devices and walking aids
Hydrotherapy treatment
Your physiotherapist at Manchester Physio will assess how you current symptoms are impacting on your daily life in order to personalise treatment. Short and long term goals will also be set and will remain at the centre of your rehabilitation to ensure that you make significant improvements and improve your physical function and quality of life.
If you would like more information on how physiotherapy can help people with a spinal cord injury, or to book an appointment please call
0161 883 0077
.