What is Erb's Palsy?
Erb's Palsy, also known as brachial plexus paralysis, is a condition involving damage to the nerves that supply the arm in a baby.
What causes Erb's Palsy?
Damage to the nerves usually occurs as a result of trauma sustained during a difficult delivery and childbirth. The severity of symptoms may vary according to the amount of nerve damage sustained ranging from mild weakness to complete paralysis of movement and sensation in the arm. Potential for recovery will be dependent on the number of nerves affected and the level of damage sustained. Some children may recover fully whereas others may be left with permanent muscle weakness and loss of function.
How can Physiotherapy help Erb's Palsy?
The presentation of Erb's palsy will be individual to each child and before treatment begins a thorough assessment of the child's range of movement, muscle strength, sensation and overall function will be required to establish appropriate treatment. This may include:
Activities and exercises to promote recovery of movement and muscle strength
Exercises to maintain range of movement in the joints to prevent stiffness and pain
Exercises to promote increased awareness of the arm
Provision of splints to prevent secondary complications and maximise function
Advising parents on appropriate handling and positioning of the child and home exercises to maximise the child's potential for recovery
Referral to Occupational Therapy for assessment of function in day to day activities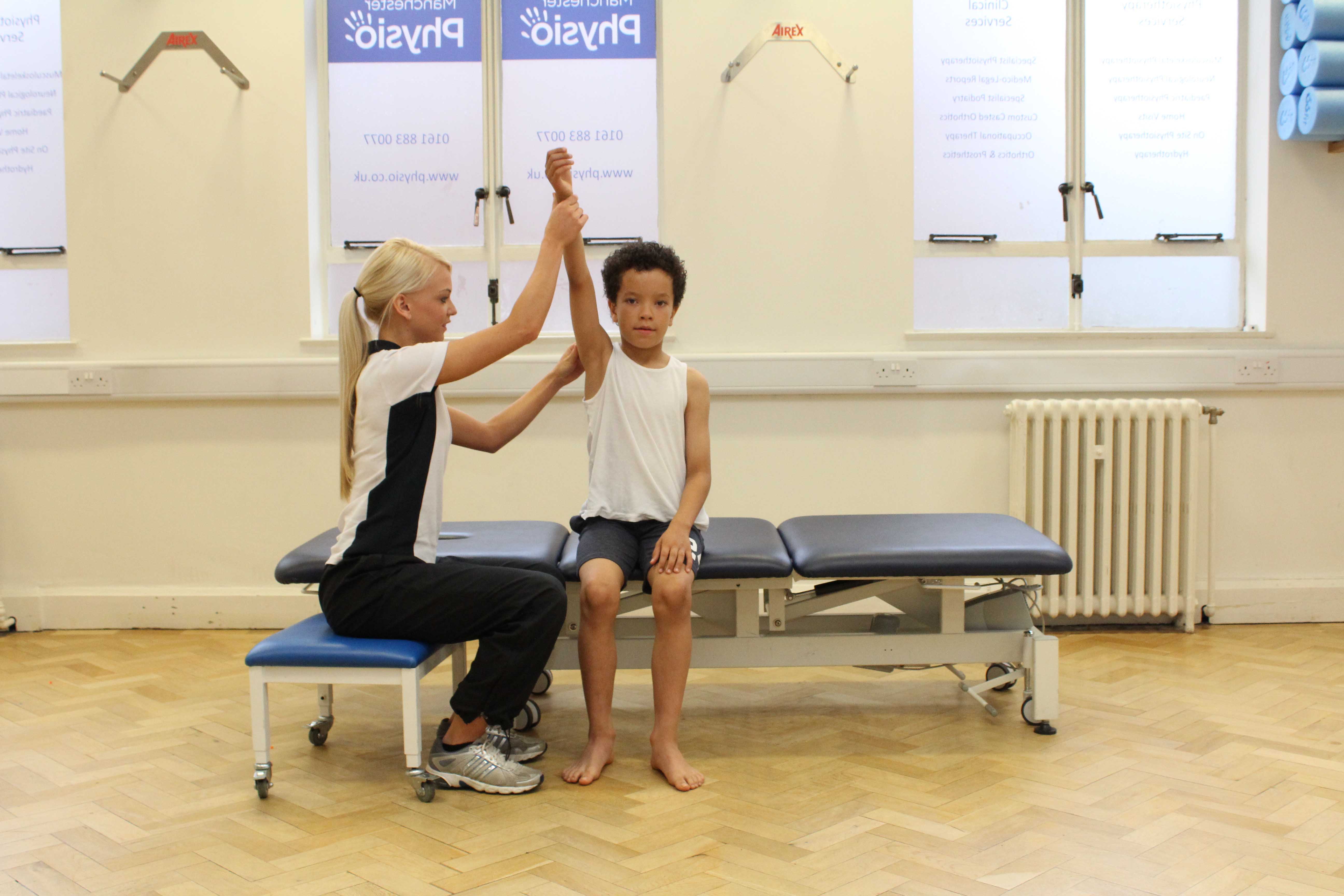 Above: passive mobility and stretch exercises for the arm and shoulder performed by a paediatric neuro physiotherapist
Benefits of Physiotherapy for Erb's Palsy
Improved muscle strength and range of movement
Reduced pain
Improved functional use of the arm
Improved independence
Reduced risk of secondary joint stiffness
Improved quality of life and independence
Why Manchester Physio?
Immediate treatment to maximise results
One on one treatment
Full involvement of parents throughout treatment
Specialist physiotherapists
Motivated, caring staff
Proven track record
When a child has Erb's palsy parents can be distressed and anxious about future treatment. Our team of specialist paediatric physiotherapists can provide the specialist treatment and support required to achieve the best results possible for your child.
Manchester Physio can provide treatment of Erb's palsy across a broad area covering Greater Manchester and Cheshire. We can provide assessment and treatment at our clinic, a child's school or at your home for your convenience.
See our
testimonials
to read about the experiences of current and past patients.
To find out more please
contact us
or arrange a
free phone consultation
.
To arrange an appointment
book online
, call now on
0161 883 0077
or email:
office@manchesterphysio.co.uk