Introduction to Cerebral Palsy
Cerebral Palsy is an umbrella term used to describe a range of non-progressive impairments of posture and movement that develop as a result of damage to the developing central nervous system during pregnancy, birth or early infancy.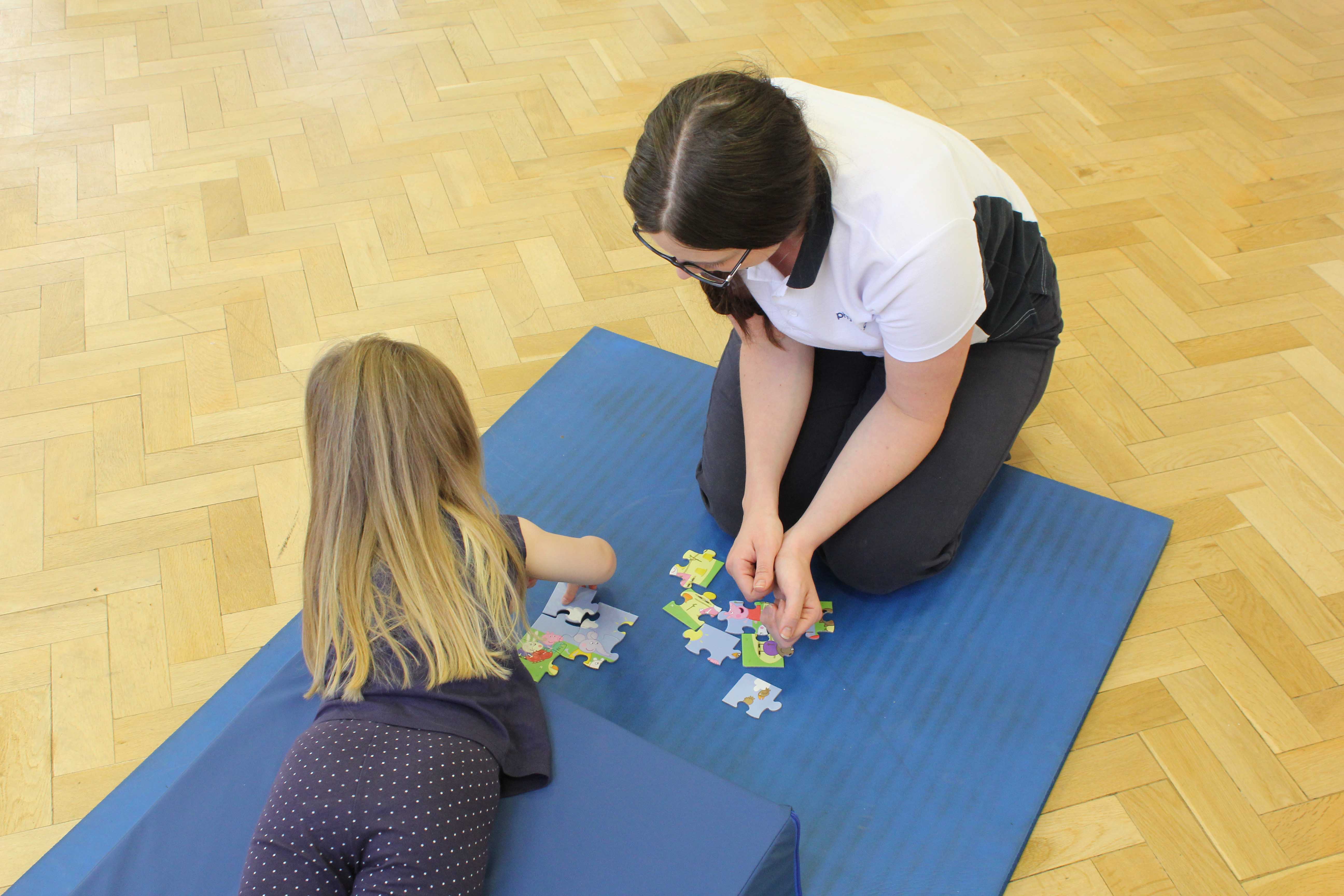 Above: Treatment session can help evelop your childs gross and fine motor skills.
Causes of Cerebral Palsy:
In some cases there is no identifiable cause, however some common factors that may lead to the development of cerebral palsy include:
Problems with fetal development during pregnancy e.g. exposure to radiation or infection
Asphyxia before birth
Hypoxia of the brain
Trauma during labour or delivery
Maternal infection
Premature birth
Multiple births
Complications following birth or during early childhood
The presentation of the condition will depend on the extent, size, and the site of irreversible damage to the brain or spinal cord. Symptoms may vary in severity ranging from mild to severe motor impairment.
Cerebral palsy is often classified into different types according to the presentation of symptoms and the area of the body affected. Different types include:
Spastic cerebral palsy:
Spastic cerebral palsy leads to increased muscle tone (stiffness in the muscles) as a result of upper motor neurone damage in the brain. This type of cerebral palsy is often further classified according to the regions affected:
Spastic hemiplegia: affects one side of the body
Spastic diplegia: affects mainly the lower limbs
Spastic quadriplegia: affects all four limbs
Spastic monoplegia: single limb affected
Athetoid/Dyskinetic cerebral palsy:
This type of cerebral palsy presents with mixed muscle tone leading to difficulties holding an upright position for sitting and walking and involuntary movements which make functional activities such as feeding difficult.
Ataxic cerebral palsy
Ataxia describes a symptom of neurological impairment affecting co-ordination of movement due to damage to an area of the brain called the cerebellum. This can cause problems with balance and dexterity and also tremors during voluntary movement.
Hypotonic cerebral palsy
Hypotonia describes low muscle tone causing floppy limbs and difficulty generating movements.
Symptoms of Cerebral Palsy
Due to the varying types and different presentations of cerebral palsy there is a large diversity between symptoms. All types have abnormal muscle tone. Other symptoms include:
Spasticity
Stiff limbs
Floppy limbs
Spasms
Abnormal posture
Involuntary movements
Difficulty moving limbs
Developmental delay in achievement of milestones
Problems with balance
Clumsiness and uncoordinated movements
Gait abnormalities including unsteadiness, toe walking, scissoring legs
Impairments in speech, hearing, sight, intellect and learning
Diagnosis of cerebral palsy is made by a Neurologist following a neurological examination. Other tests such as MRI scans may be used to support the diagnosis or rule out other conditions. Symptoms usually present early in infancy but in some cases may not be picked up until later in childhood.
Physiotherapy Treatment for Cerebral Palsy
There is no cure for cerebral palsy due to irreversible damage to the central nervous system. Treatment therefore focuses on assisting the person with cerebral palsy to maximise their function and prevent secondary complications. Treatment will be specific to the needs of the individual and may include:
Management of abnormal muscle tone
Exercises to maintain joint range of movement
Stretching programme for tight muscles
Exercises to strengthen weak muscles
Positioning advice to improve posture and alignment
Development of gross motor skills e.g. rolling, sitting, standing, walking
Development of fine motor skills for hand function
Facilitation of normal movement patterns
Exercises to improve balance and coordination
Advice on the provision of specialist equipment such as seating, mobility aids, positioning aids and orthotics
Liaison and referral to other health professionals such as occupational therapists and speech and language therapists
Liaison with carers and parents to advise on handling techniques, positioning advice and home exercise programmes
Benefits of regular physiotherapy include:
Improved functional abilities
Improved muscle strength
Reduced muscle strength and joint range of movement
Improved posture and positioning
Improved balance and coordination
Improved mobility and independence
Improved quality of life
Improved confidence
As cerebral palsy is a lifelong condition physiotherapy can be beneficial at various stages of life into adulthood. Physiotherapists can provide advice regarding transition into school or working life or if activities such as walking become more difficult in later life.
Why Manchester Neuro Physio?
Specialist paediatric physiotherapists
No waiting lists, immediate treatment available
Ongoing treatment available at any stage of the condition
Treatment on an individual basis
Involvement of parents and siblings in treatment
Treatments designed to be fun and encourage participation
Motivated, caring staff
Proven track record
Cerebral palsy is a lifelong condition that can cause many problems and difficulties throughout a child's life into adulthood. We have a team of specialist paediatric physiotherapists who understand the impact of cerebral palsy on a child's life and can provide the treatment that your child needs to maximise their potential and quality of life.
Manchester Neuro Physio can provide treatment of cerebral palsy across Greater Manchester and Cheshire. We can provide assessment and treatment at our clinic or at your home for your convenience. If necessary we can also visit a child at their school.
See our
testimonials
to read about the experiences of current and past patients.
To find out more please
contact us
or arrange a
free phone consultation
.