Calf strain ranges from the tearing of a few muscles fibres to completely rupturing the muscles itself causing pain and reduced function.
What causes calf strain?
A sudden contraction of the calf muscle such accelerating from a stationary position or when lunging forwards to play a ball at squash or tennis can cause a calf strain.
A calf strain may also be caused by gradual wear and tear associated with repetitive jumping and distance running or walking.
What are the symptoms/effects of calf strain?
The main symptoms of a calf strain injury is pain which can range from a still cramping and tightness during the stretching or contraction of the muscles at the back of the lower leg, to immediate pain and even soreness when touched. In the worse cases, there can be acute stabbing pain and the person will be unable to walk meaning the muscle may have completely torn. Often bruising and swelling occurs.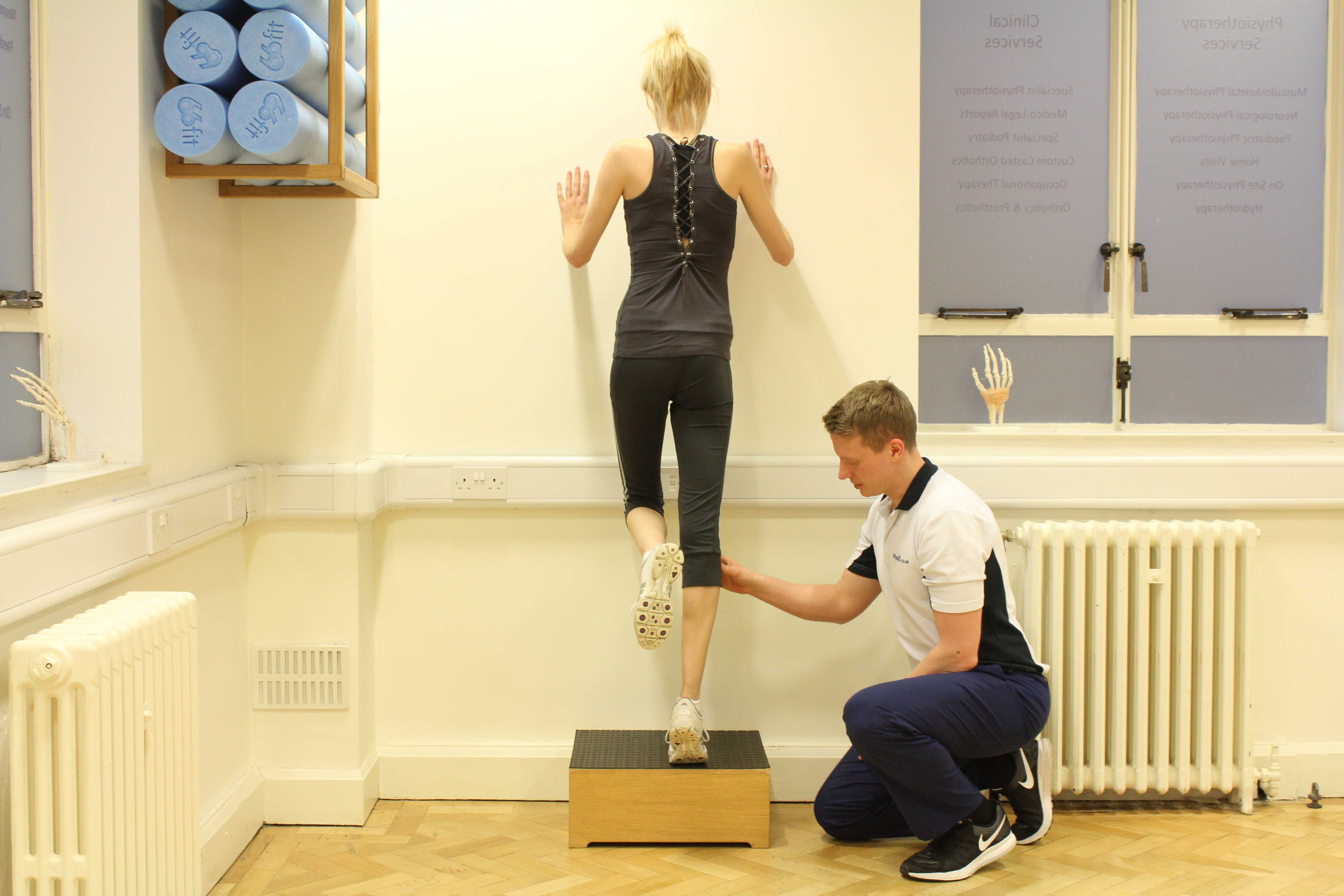 Above: Our physitherapist educating his client on stretches to prevent calf strains from occuring.
Diagnosis of a calf strain
A physiotherapist or doctor will take a thorough look at your lower leg and calf muscle and ask you questions about how it was injured, in order to confirm a diagnosis.
Physiotherapy for a calf strain
Physiotherapy treatment is vital to hasten the healing process, ensure the best outcome as soon as possible and minimise the likelihood of re-injury.
Physiotherapy treatment at Manchester Physio will be tailored to your individual needs but may include:
Ice and heat therapy to reduce pain and swelling
Soft tissue massage to facilitate healing
Ultrasound
Joint mobilisation
Graduated exercise program which will include leg and hip stretching and strengthening exercises and how to progress these safely and effectively
Running program promoting a gradual return to activity
It is important to seek physiotherapy treatment as soon as possible for the best possible results in the short and long term.
Physiotherapy treatment will reduce pain and swelling, promote healing and improve muscle strength and flexibility in order to get you back to sport and everyday activities in good time.
For more information about how physiotherapy can help with a calf strain, or to book an assessment please call
0161 883 0077
.