What is an ankle sprain?
A sprained ankle is a condition characterised by damage and tearing to the soft tissue and ligaments of the ankle. The most commonly affected ligament in this condition is the lateral ligament.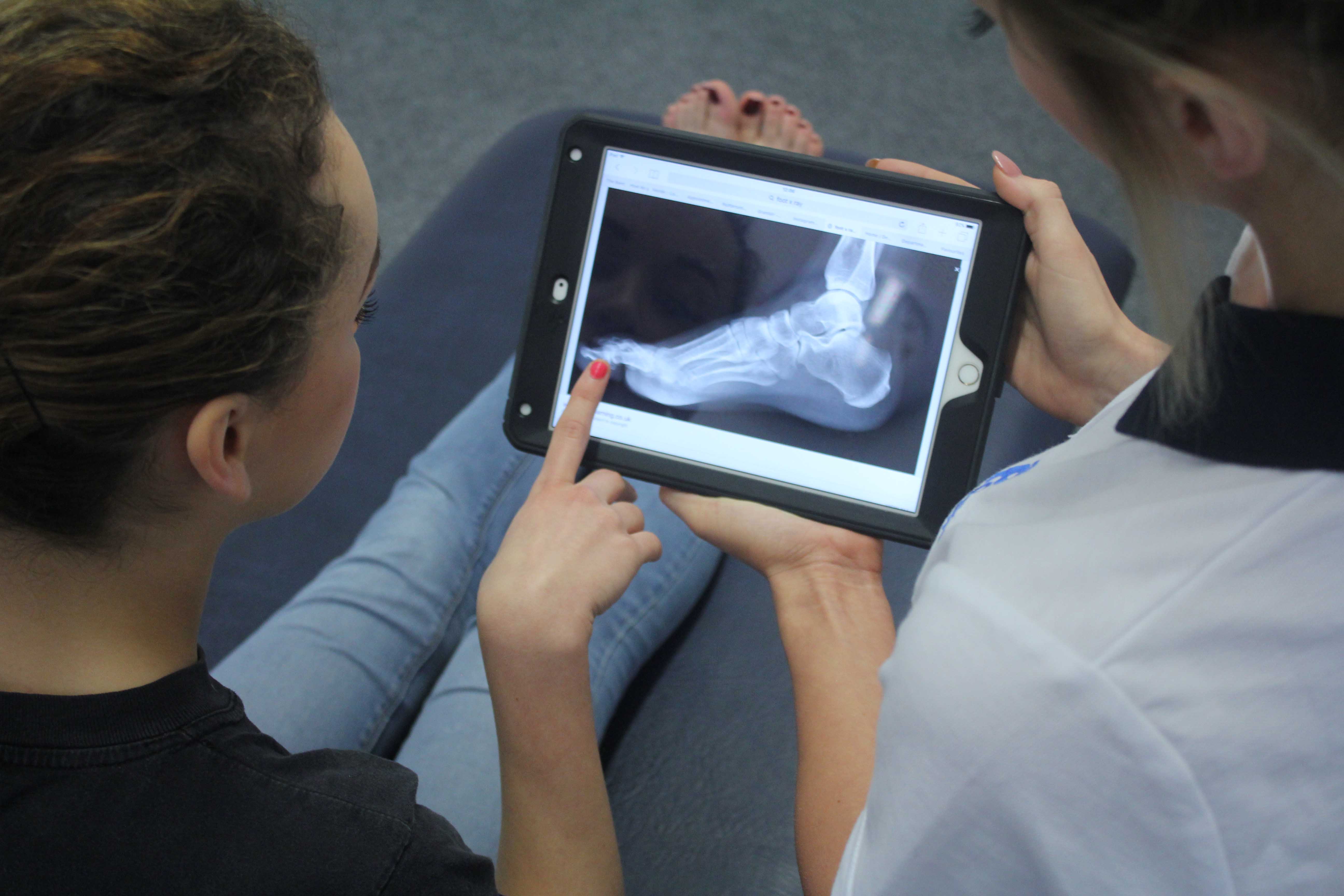 Above: Our physiotherapist educating her patient on her ankle injury.
What causes an ankle sprain?
An ankle sprain is commonly caused by activities requiring rapid changes in direction, especially if these take place on uneven surfaces (e.g. grass fields) such as in football or netball.
What are the symptoms/effects of an ankle sprain?
People may often notice an audible snap, crack or tearing sound at the time of injury, accompanied by:
Pain
Swelling
Bruising
Stiffness
Difficulty weight bearing onto the affected leg
Diagnosis of an ankle sprain
Diagnosis of an ankle sprain can be made by a physiotherapist or doctor who will take a thorough look at your ankle and assess swelling, pain, movement and strength. An X-ray may be required to see the extent of the injury and rule out other injuries (particularly fractures).
Physiotherapy for an ankle sprain
Our physiotherapists at Manchester Physio provide specialised assessment and treatment for people with ankle sprains.
Physiotherapy treatment at Manchester Physio will initially reduce pain and swelling through specific compression strapping and regular icing and elevation. Following this, range of motion and strength will be restored as quickly as possible through:
Ankle mobilisations
Soft tissue massage
Specific stretching and strengthening exercises
Balance training using wobble boards, wobble cushions and trampets
Sport-specific exercise programme
Your treatment programme at Manchester Physio will be centred on your lifestyle to increase sporting performance and reduce the risk of recurrence.
Physiotherapy will accelerate healing and get you back to your sporting activities as quickly as possible.
If you would like more information on how physiotherapy can help with ankle sprains, or to book an assessment please call
0161 883 0077
.