What is plagiocephaly?
Plagiocephaly is a condition affecting the skull in babies causing the head to appear flattened. This arises because the bones of the skull are not tightly joined together yet and are therefore mouldable. As babies spend a lot of time in one position (usually on their back) the head becomes shaped by the pressure. It is a very common condition said to affect up to 50% of babies.
What treatment is available for plagiocephaly?
In mild cases a baby may not require any treatment and the head will return to its natural shape as soon as the child is able to move its head around more easily. In more severe cases a helmet may be required to allow the area of the skull to reshape into the correct position.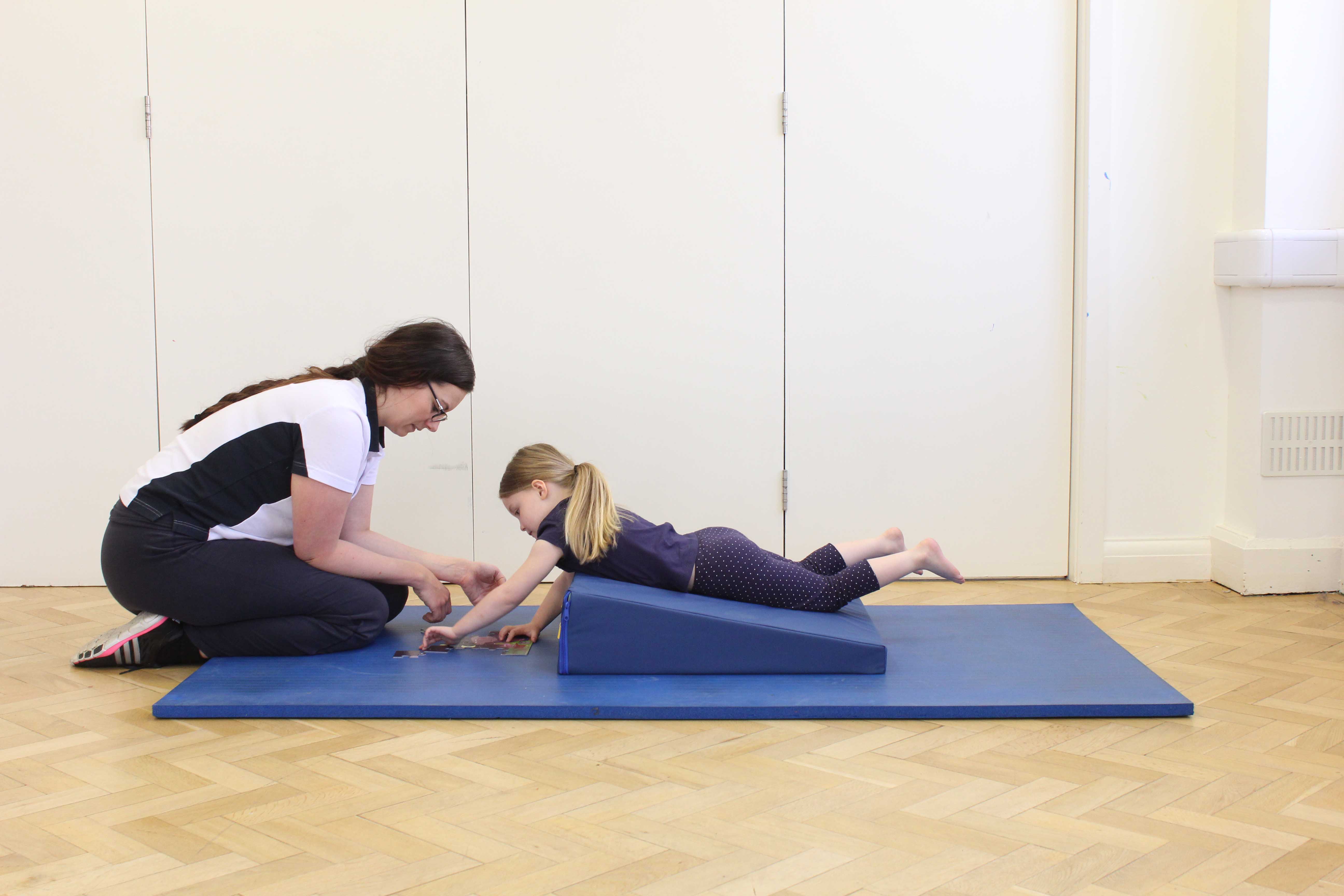 Above: improving posture and raising muscle tone through play activity with a paediatric physiotherapist
How can physiotherapy help plagiocephaly?
Physiotherapy may be required if there restrictions in a baby's ability to move their head around e.g. muscle tightness or joint stiffness, which is making them prone to residing in one position. Our specialist paediatric physiotherapists can provide advice regarding appropriate sleep positions, carrying positions, exercises and play activities for parents to help restore their baby's natural head shape. Manchester Physio can also refer to a specialist orthotist if a helmet is required in more severe cases.
Why Manchester Physio?
No waiting lists, fast treatment for your baby
One on one treatment
Full involvement of parents
Dedicated, patient centred approach
Specialist physiotherapists
Motivated, caring staff
Proven track record
We understand that plagiocephaly in babies can be distressing for parents. Our team of specialist paediatric physiotherapists can provide assessment and treatment for your child and provide reassurance and support during the rehabilitation process.
Manchester Physio can provide treatment of babies with plagiocephaly across Greater Manchester and Cheshire. We can provide assessment and treatment at our clinic, a child's school or at your home for your convenience.
See our
testimonials
to read about the experiences of current and past patients.
To find out more please
contact us
or arrange a
free phone consultation
.