Manchester Physio Pilates is suitable for just about anyone, regardless of your age or level of fitness, within a class or one to one session. Pilates activity is gentle and low impact but can be also progressed to become more and more challenging for the core by adding resistance or limb movement.
Originally, professional dancers in America adopted Pilates as a form of treatment to recover from injury. The popularity of Pilates has since soared across the globe due to its numerous benefits for everyone.
Manchester Physio Pilates is now commonly used for:
General Fitness and Sporting Performance
Musculoskeletal and Health Problems
Pregnancy
Overall Wellbeing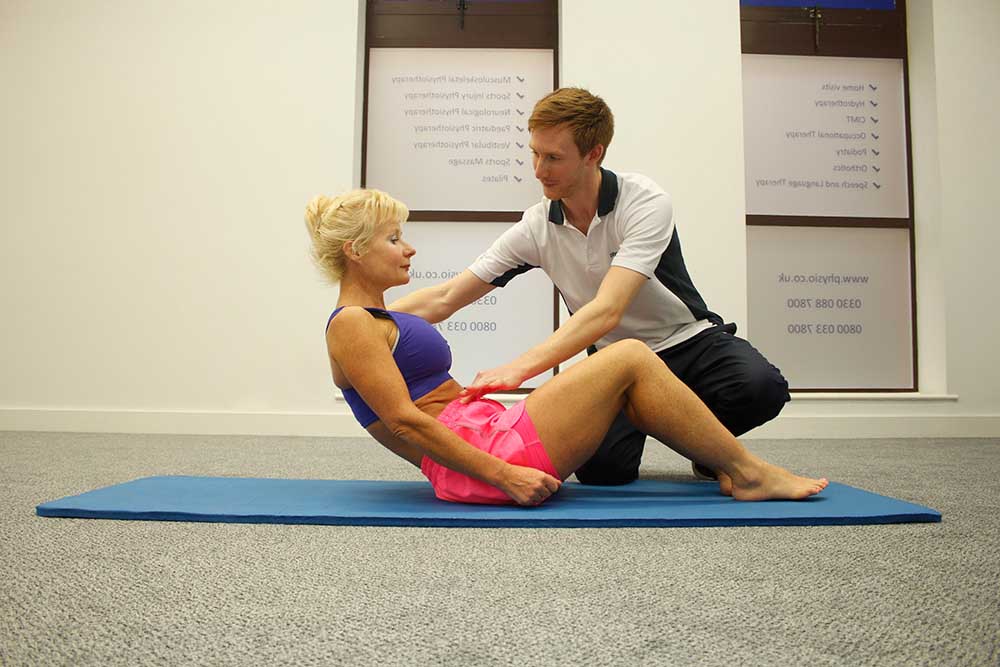 Above: Adaptations can be provided so that pilates is suitable for all individuals.
General Fitness and Sporting Performance
Pilates is ideal for improving general fitness and complementing sporting performance. Strengthening and conditioning your core is very important for every lifestyle including:
Sedentary lifestyles
Active lifestyles
Sporting lifestyles
In sports, Pilates is usually combined with aerobic exercise for a complete work out programme. A strong, solid core acts as a foundation for gaining optimum performance in various sports, improving technique and power production. Pilates is also important for injury rehabilitation and injury prevention.
No matter what your fitness level, attending Manchester Physio Pilates classes or one to one sessions will improve your overall muscle tone and increase your flexibility.
Some of the sports which benefit from Pilates are:
Athletics
Dancing
Gymnastics
Football
Cycling

Running
Swimming
Skiing
Horse Riding
Rugby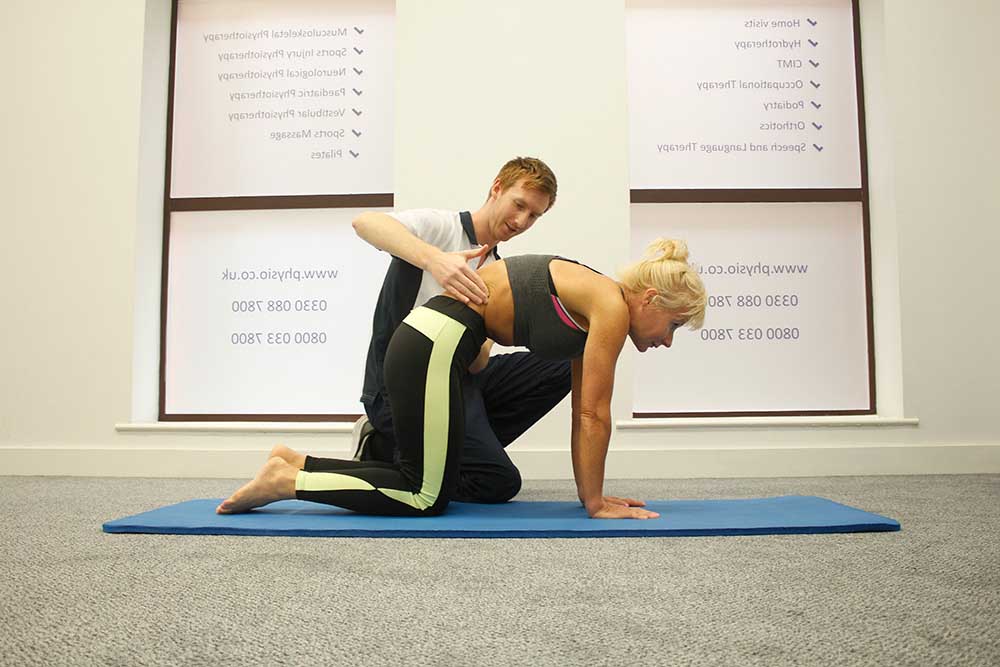 Above: Our therapist will help guide you through any exericses you find difficult to ensure you get the most from your class.
To book onto a Pilates class to improve your general fitness or sporting performance call Manchester Physio on 0161 883 0077.
Musculoskeletal and Health Problems
Pilates is also used as a physiotherapy treatment for various health problems to maintain and improve core strength, to aid mobility, balance and general well-being. Pilates can also be used to alleviate global or specific musculoskeletal or neurological aches and pains.
Common health problems seen within the classes are:
Lower back pain
Neck pain
Shoulder pain
Muscular imbalance
Hypermobility
Post-surgery
Postural pain
Reduced joint range of movement
Balance and coordination problems
Weak gluts (bottoms muscles)
To arrange a one to one Pilates session or to book onto a Pilates class e-mail:
office@manchesterphysio.co.uk
or call us on 0161 883 0077.
Pregnancy
Pilates is becoming more and more popular among pregnant women because of its low impact nature and therapeutic element. Pilates helps to prepare the body for labour and recover the body after labour.
Manchester Physio provide the following classes:
Pilates is a great way to keep active during pregnancy, it also helps to:
Retrain abdominal muscles
Correct pelvic movement and spinal alignment
Improve mood and wellbeing
Reduce low back pain
Possible reduce in occurrence of sciatic pain and incontinence
To book onto our Pre or Post Natal Pilates class or to arrange a one to one Pilates appointment call us on 0161 883 0077.
Overall Wellbeing
Pilates is a common method of maximising your overall state of happiness and healthiness (wellbeing). Anyone can participate in Pilates, any age or gender, not just those in sports or those with health problems. The relaxation element is beneficial for everyone, acting as a holistic therapy and combining breathing with movement control. Pilates helps to free the body of stress and tension, leaving you feeling revitalised.
There is scientific evidence which suggests that chronic stress, fatigue and illness are related, and Pilates can reduce the risk of all of these.
Call Manchester Physio today on 0161 883 0077 to book onto a Pilates class or to arrange a one to one Pilates session.