What is a dupuytren's contracture?
Dupuytren's contracture is shortening of the soft tissue in the fingers causing the fingers to bend towards the palm and cannot be fully straightened.
What causes a dupuytren's contracture?
It is not clear what exactly causes Dupuytren's contracture. However, the most common factor is genetics and up to 70% of people who develop Dupuytren's contracture have a family history of the condition. The condition is also more common in men, people over the age of 40 and people of white northern European ethnicity.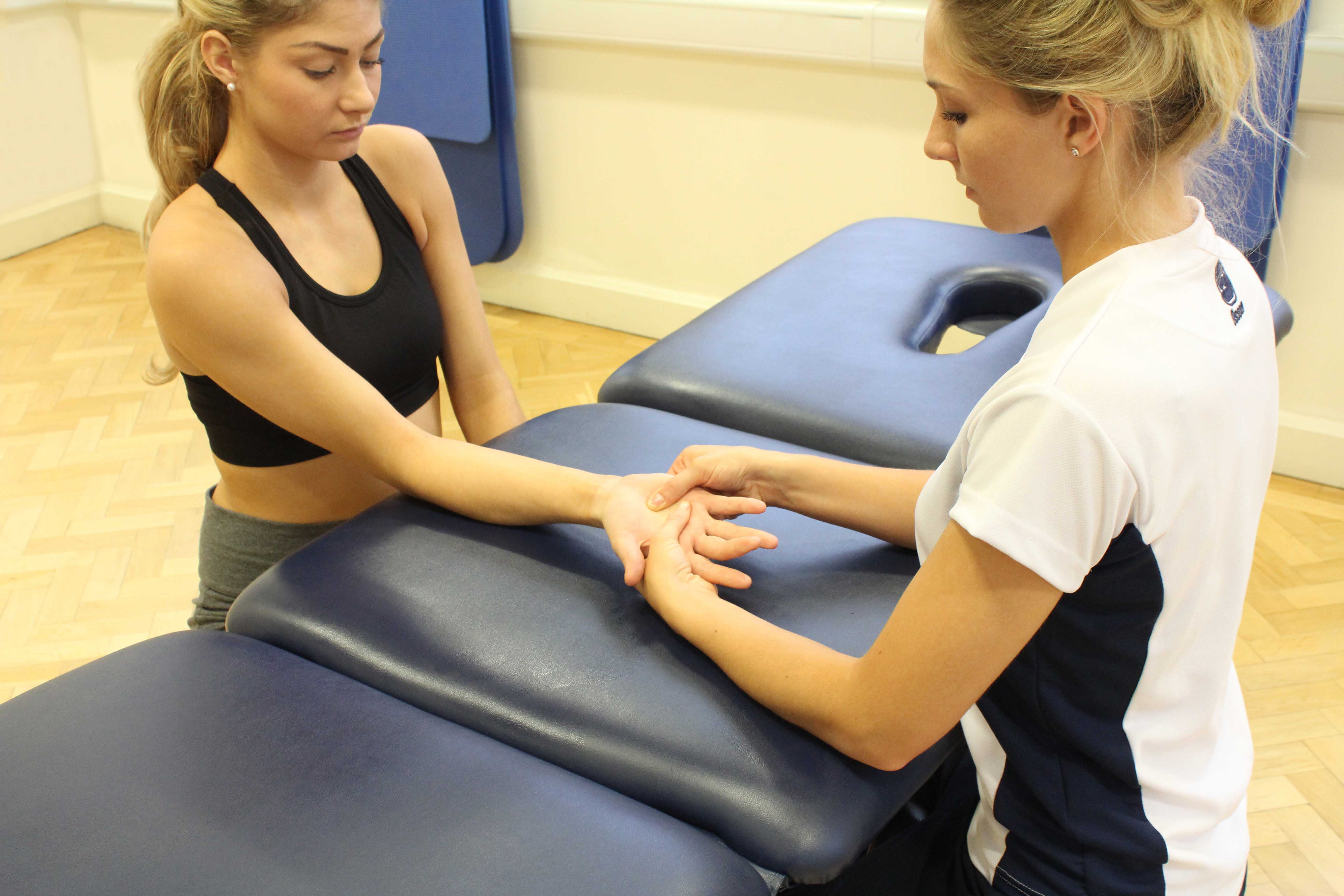 Above: Therapist soft tissue massage of the metacarpals and connective tissues in the hand
What are the symptoms/effects of dupuytren's contracture?
The main symptoms of Dupuytren's contracture are small nodules (thickening of connective tissue) on the palm of your hand making it difficult to straighten the finger. This may also be tender to touch.
As Dupuytren's contracture progresses, your fingers may eventually be pulled into a permanently flexed (bent) position which makes it difficult to perform simple activities, such as cooking, swimming, playing a guitar or shaking someone's hand.
Diagnosis of dupuytren's contracture
In order to diagnose dupuytren's contracture, a physiotherapist or GP will examine your fingers and hand thoroughly and take a subjective history.
Conventional treatment for dupuytren's contracture
In the early stages of the disorder, physiotherapy can slow or reverse the contracture.
At Manchester Physio, our physiotherapists understand that dupuytren's contracture affects everyone differently. An initially assessment with one of our specialised physiotherapists at Manchester Physio, will look at you range of movement, strength and current problems in carrying out daily activities.
Physiotherapy treatment at Manchester Physio may include heat, stretching, and soft tissue massage to control pain and to try to slow the progression of the contracture. Your physiotherapist may advise that you wear a splint that keeps the finger straight which is usually worn at night. You may also be provided with a home exercise program consisting of stretching and range of movement exercises to maximise function.
However, Dupuytren's contracture is known to progress, so surgery may be needed at some point to release the contracture and to prevent disability in your hand.
Physiotherapy following surgery
At Manchester Physio, our physiotherapists also provide individualised treatment for people following surgery of a dupuytren's contracture.
Physiotherapy treatment at Manchester Physio following your surgery will regain your range of movement, relieve you pain and get you back to daily activities with independence and success as quickly and safely as possible.
Physiotherapy treatment following surgery may include:
Soft tissue massage to relieve any stiffness and pain
Passive stretching to improve flexibility and maximise function
Active range of movement exercises
Activities to improve dexterity, coordination and grip strength
Gradual return to everyday activities that put stress on the fingers such as carrying heavy loads and cooking.
Your rehabilitation program will be tailored to you so that you reach your optimal function and continue to make long term improvements.
If you would like more information about physiotherapy for dupuytren's contracture or to book an appointment please call
0161 883 0077
.