What is Sinding-Larson and Johannson syndrome?
Sinding-Larson and Johannson syndrome is a condition causing knee pain in growing adolescents, especially those engaged actively in sports. Excessive stress and overuse of the knee causes inflammation to the growth plate at the lower end of the patella (knee cap) resulting in pain.
What are the symptoms of Sinding-Larson and Johannson syndrome?
Pain over the anterior aspect of the knee near the bottom of the knee cap.
Possible swelling in the area
Limping when walking
Pain worse after exercise, especially involving sprinting, jumping and climbing stairs
May be precipitated by injury or trauma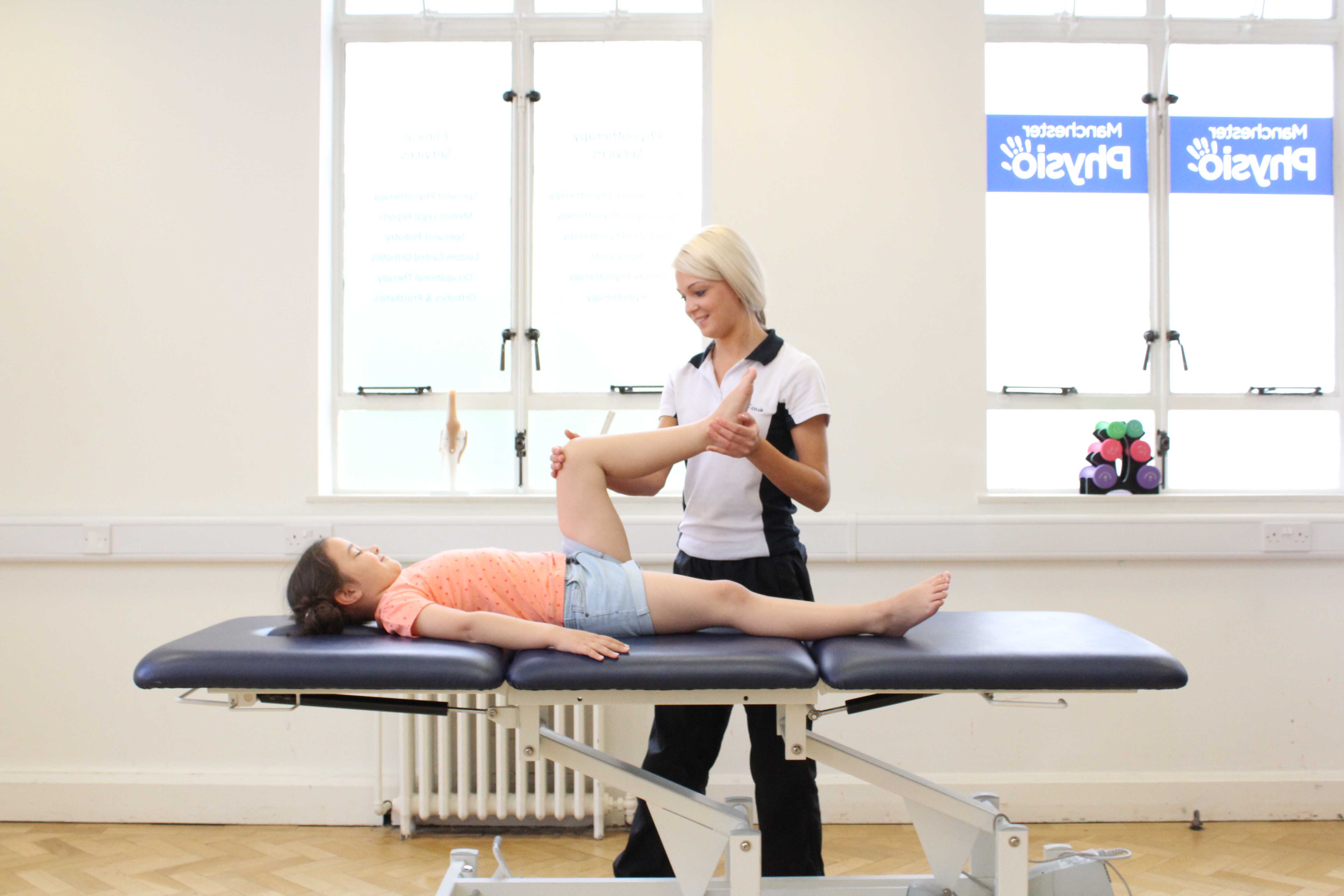 Above: Specialist paediatric physiotherapist conducting a knee assessment
How can physiotherapy help Sinding-Larson and Johannson syndrome?
This condition eventually resolves as skeletal maturity is reached, however physiotherapy is beneficial to aid symptom relief. Physiotherapy can help:
Reduce pain by using pain management techniques whilst symptomatic
Advise on appropriate activity modification e.g. resting from aggravating activities
Address any areas of muscle imbalance that may be contributing to the pain
Provide advice on appropriate home exercises
Assist with return to activity
Provide advice regarding other adjuncts to treatment e.g. taping or braces to reduce symptoms
Why Manchester Physio?
No waiting lists
Choice of treatment location
One on one treatment
Dedicated, patient centred approach
Specialist physiotherapists
Motivated, caring staff
Proven track record
We understand that Sinding-Larson and Johansson syndrome can be distressing and painful for children and parents. Our team of specialist physiotherapists can provide assessment and treatment for your child and give you reassurance and support and help relieve the symptoms.
Manchester Physio can provide treatment of children with Sinding-Larson and Johansson syndrome across Greater Manchester and Cheshire. We can provide assessment and treatment at our clinic, a child's school or at your home for your convenience.
See our
testimonials
to read about the experiences of current and past patients.
To find out more please
contact us
or arrange a
free phone consultation
.