What is a shoulder dislocation?
A shoulder dislocation is when the ball of the shoulder joint pops out of the shoulder socket. It is one of the most common sporting injuries sustained in contact sports such as rugby. The dislocation can either be an anterior or posterior dislocation where the arm appears out of position either pointing forwards or backwards.
What causes shoulder dislocation?
Contact sports and hitting your shoulder hard against a solid object can dislocate the shoulder. An anterior dislocation a common shoulder dislocation, when the top of the humerus (arm bone) shifts and sits in front of the shoulder blade.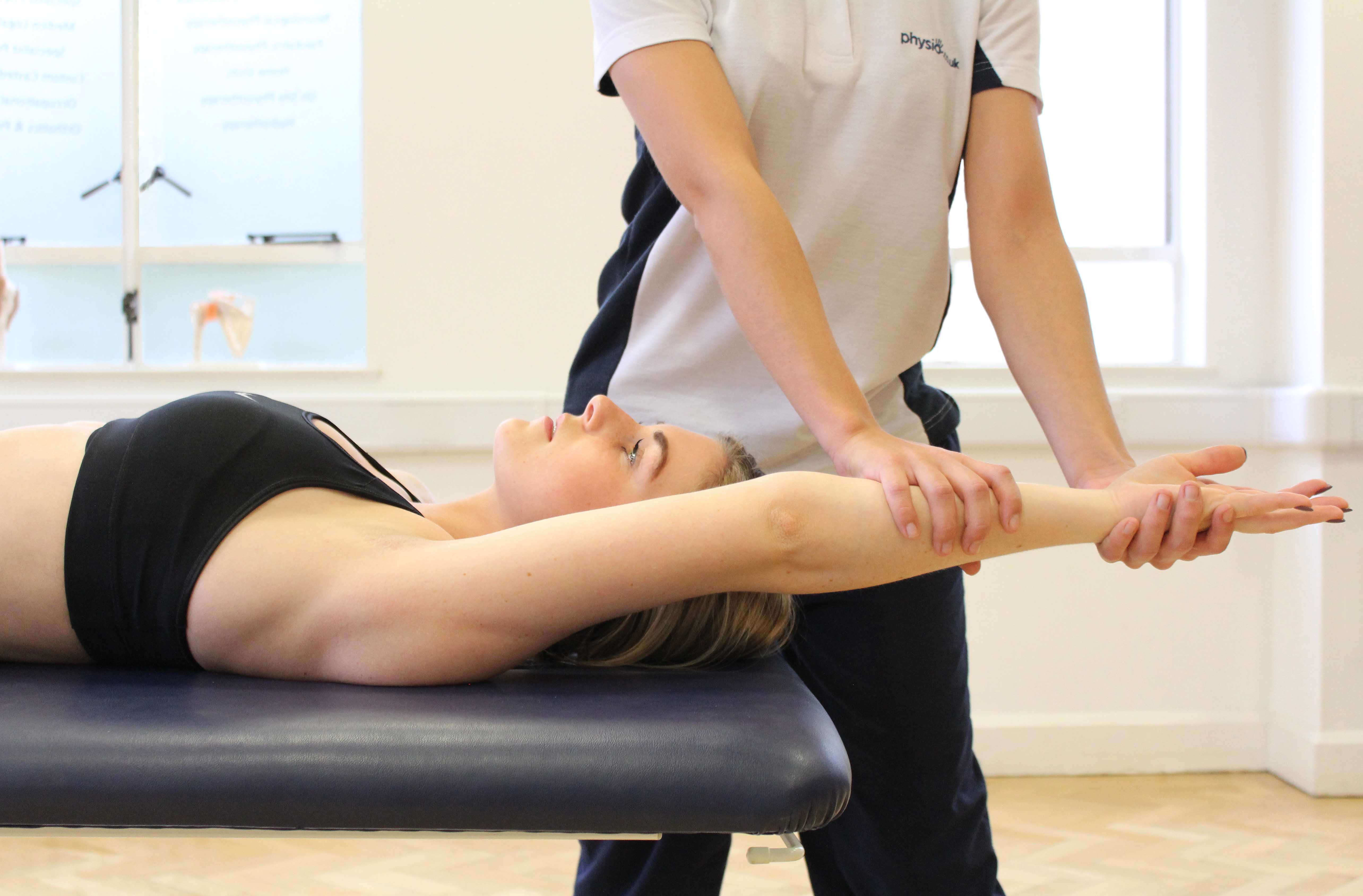 Above: Passive stretch applied to the shoulder by experienced physiotherapist
Diagnosis of a shoulder dislocation?
If you suspect you have dislocated your shoulder you should seek medical treatment immediately to prevent further damage to the shoulder. Your GP may treat your dislocated shoulders by manipulating the shoulder back into place. This is usually followed up with an x-ray to ensure the shoulder has been put back into place properly, and no other bones were fractured around the shoulder as a result of the manipulation. Your arm will then be placed in a sling for several weeks to help your shoulder recover.
What are the symptoms of a shoulder dislocation?
Symptoms of a shoulder dislocation may include:
sudden onset of acute shoulder pain


a loss of sensation or feeling on the outside of the shoulder (this symptom could indicate possible damage to the nerve supplying the shoulder and arm)


swelling


muscle weakness


bruising
Physiotherapy for a shoulder dislocation?
Physiotherapy at Manchester Physio following your shoulder dislocation will gradually restore the range of motion to the shoulder and strengthen the muscles around it, to prevent re-injury and return you to your everyday activities and sports.
At Manchester Physio, your physiotherapist will initially assess your range of movement, muscle strength and function after your sling has been removed, in order to develop a progressive treatment program to help you get back to the level you were previously.
Physiotherapy treatment at Manchester Physio may include:
Heat therapy to relieve pain and stiffness
Active and passive movement to keep the range of movements in the shoulder as well as the elbow, wrist and hand.
Exercise to strengthen the muscles around your shoulder to increase joint stability and prevent re-injury.
Advice about how to use your arm safely with everyday activities
Functional and sport specific exercises. Your physiotherapist will give you exercises that are as similar as possible to the movements you do during your everyday activities.
Your physiotherapist at Manchester Physio will help you return to the activities you enjoy as soon as possible, by regaining pain free range of movement and strengthening your shoulder muscles in an exercise program suited to you and your hobbies.
For more information about physiotherapy for shoulder dislocation, or to book an appointment please call
0161 883 0077
.