Manchester Physio have helped many people successfully return to and maintain a normal working life, despite previously being absent from work for long periods of time. Our treatment, management and rehabilitation of patient's work-related injuries are cost effective when compared with the business costs of absenteeism.
Manchester Physio's "Return-to-Work Rehabilitation Programme" involves simultaneously decreasing pain and restoring function with carefully planned active treatment and self-management. Our Return-to-Work Rehabilitation Programme is specifically designed to help people return to all their normal daily activities after an accident or injury.
This holistic programme of individual treatment sessions is designed to overcome both the physical problems associated with an injury and the psychosocial impacts.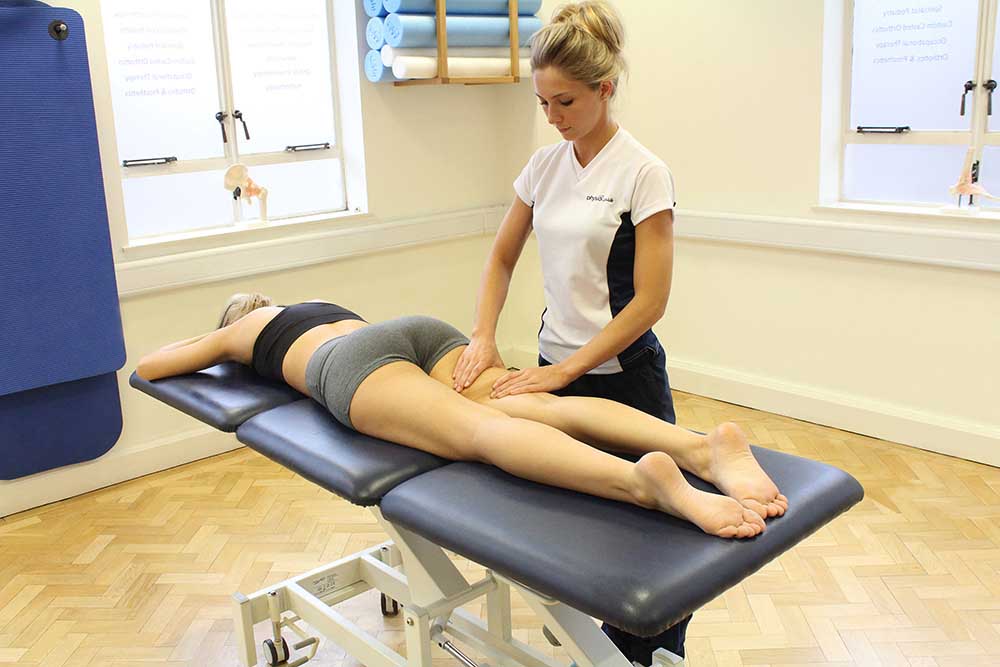 Above: Rolling soft tissue massage of the hamstring muscles by a specilaist therapist
Initial Assessment
The programme begins with a Functional Capacity Assessment (FCA) of the patient's current ability and limitations. An initial FCA score will be calculated. At all future treatment sessions FCA scores are generated. This easy to use system allows our Physiotherapists, along with the patient, the patient's Rehabilitation Case Manager and the patient's employer, to monitor the patient's progress (subject to patient consent).
At the end of the initial assessment short and long term SMART goals are discussed, agreed and set between the Physiotherapist and the patient.
Following this initial assessment Manchester Physio can provide a comprehensive medico-legal reporting service.
Treatment
Manchester Physio is able to see patients in a variety of settings;
Home Visits
Clinic Appointments
Gym Sessions
The location of the initial assessment and treatment sessions is largely dependent on patient preference, the nature and severity of the injury and the type of job / previous activity levels of the patient.
The Return-to-Work Programme typically lasts for 8-12 weeks using evidence-based treatment protocols. The detailed initial assessment and goal setting allow our Physiotherapists to formulate tailor-made treatment programmes specific to the patient's needs. Our aim throughout treatment is to motivate and connect patients with an attitude of independence, and responsibility to their own future health and wellbeing.
Treatment regularly comprises of;
Education - provided regarding the patient's condition, the effects and importance of treatments, injury prevention and self-management.
Electrotherapy
Manipulation and Mobilisation
Acupuncture
Graduated personal exercise programme - to counteract post-injury muscle weaknesses and imbalances. It is imperative, to reduce the risk of re-injury, that muscle strength is nearing full strength prior to return to work.
Specific work conditioning - performed with most patients to improve strength, endurance, and postural tolerances prior to return to work.
Cognitive-Behavioural Therapy (CBT) - acknowledging and overcoming unhelpful thoughts & beliefs, and fear-avoidance behaviour.
Manual Handling and Postural / Ergonomic Advice - if relevant, common types and mechanisms of manual handling injuries can be discussed in relation to the identification and reduction of risks during work practices and the demonstration and practice of basic handling techniques. Workstation ergonomics and the principles of postural awareness can also be discussed if appropriate.
Final Assessment
Following the assessment a final report (with the informed consent of the patient) will provide a summary of the treatments, goals, patient progression and FCA outcome measures. An analysis of these functional measures, along with the return to work decisions of the assessing Physiotherapist will be sent to all Doctors, Rehabilitation Case Managers and Employers concerned. The final report will outline whether any further medical or therapeutic intervention will be required, the scale on which the patient can return to work (if not full duties) and any equipment required (along with recommended suppliers and price guide) to allow the patient to return to work.
To arrange an appointment
book online
, call now on
0161 883 0077
or email:
office@manchesterphysio.co.uk