Thoracic and chest pain can cause significant discomfort and pain. Pain in the thoracic spine may involve damage to the disks or joints between vertebrae. The small joints between the spine and the ribs can also be a cause of pain in the thoracic spine and chest. This can occur following an acute injury or can come on gradually due to prolonged poor posture and work positions.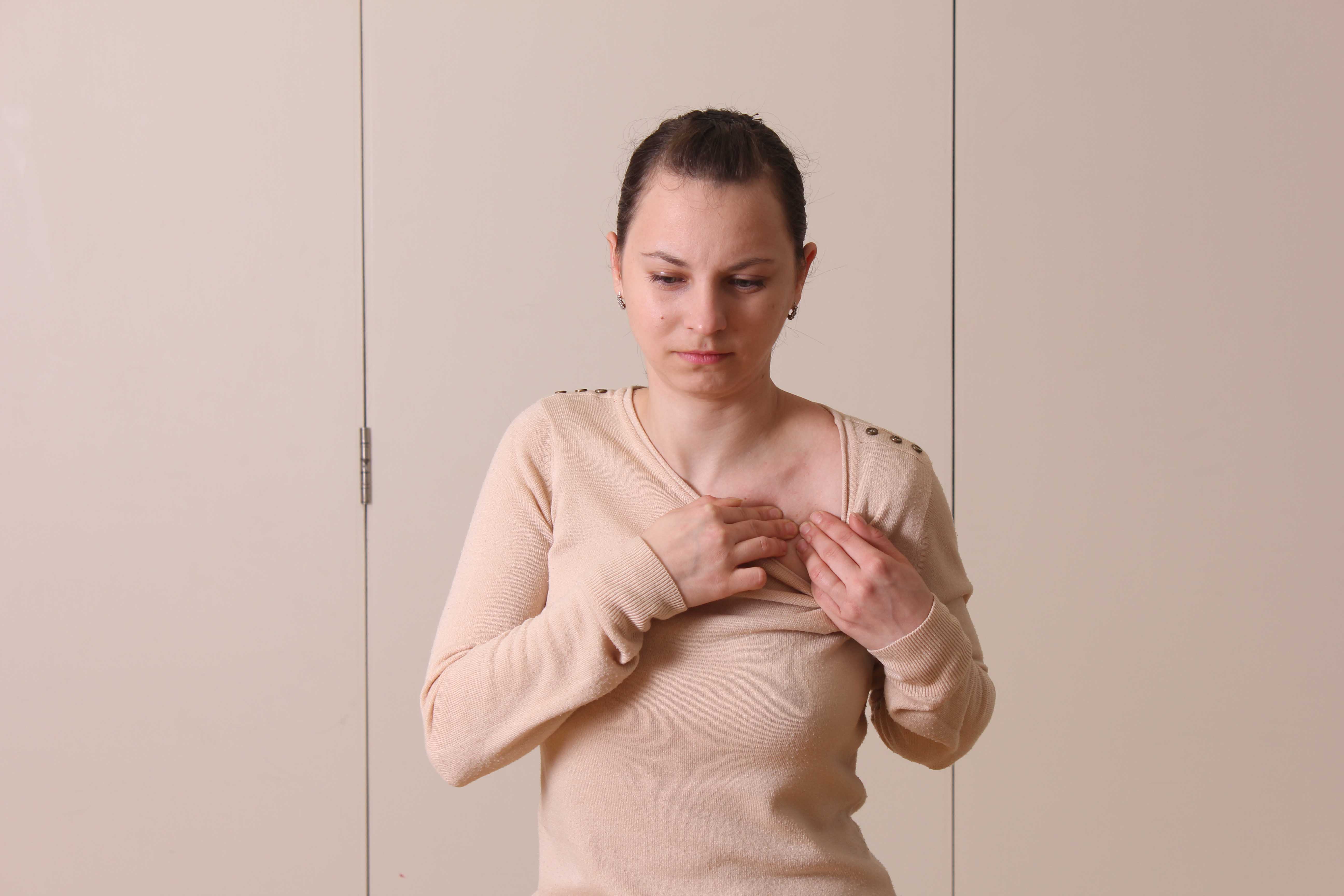 Above: A patient suffering with pain and discomfort in her chest and thoracic area.
What causes thoracic and chest pain?
There are many causes of thoracic and chest pain which may include:
A history of chest pain combined with a productive cough may point more in the way of a respiratory origin.
What are the symptoms/effects of thoracic and chest pain?
Symptoms of thoracic and chest pain include a
Persistent aching pain,
Sharp pains on certain movements such as rotation,
Stiffness and a feeling of not being able to get comfortable in a sitting position.
Diagnosis of thoracic and chest pain
A thorough physical examination and subjective history from a physiotherapist or doctor will confirm a diagnosis of thoracic and chest pain and identify the contributing factors.
Physiotherapy for upper back pain
Physiotherapy treatment at Manchester Physio will reduce your pain and improve your posture by using a combination of hands-on techniques and exercise.
At Manchester Physio, your physiotherapist will initially assess your present symptoms and conduct a physical examination of your back and related areas to identify the cause of your symptoms and develop a rehabilitation programme tailored to this.
Physiotherapy treatment for thoracic and chest pain may include:
Joint mobilisation and manipulation of the joints to relieve stiffness and pain
Massage to the spinal muscles to reduce tension and muscle spasm
Heat therapy to promote healing and reduce pain and tension
Trigger point treatment
Acupuncture
Exercise programme involving stretching and strengthening exercises.
Core stability exercises to help stabilise the spine and relieve pain
Postural management to relieve discomfort in lying, sitting or standing
Ergonomic assessment to improve posture and comfort at work
Physiotherapy treatment at Manchester Physio will reduce pain, improve posture and improve muscle strength and flexibility so that you can return to normal working or daily activity and prevent it from reoccurring in the long term.
For more information about physiotherapy for thoracic and chest pain, or to book an appointment please call
0161 883 0077
.