What is a gluteal strain?
A gluteal strain is when one of the muscles in your buttocks is stretched or torn causing pain and stiffness.
What causes a gluteal strain?
A gluteal strain is commonly caused by running or jumping in sports such as hurdling or dancing.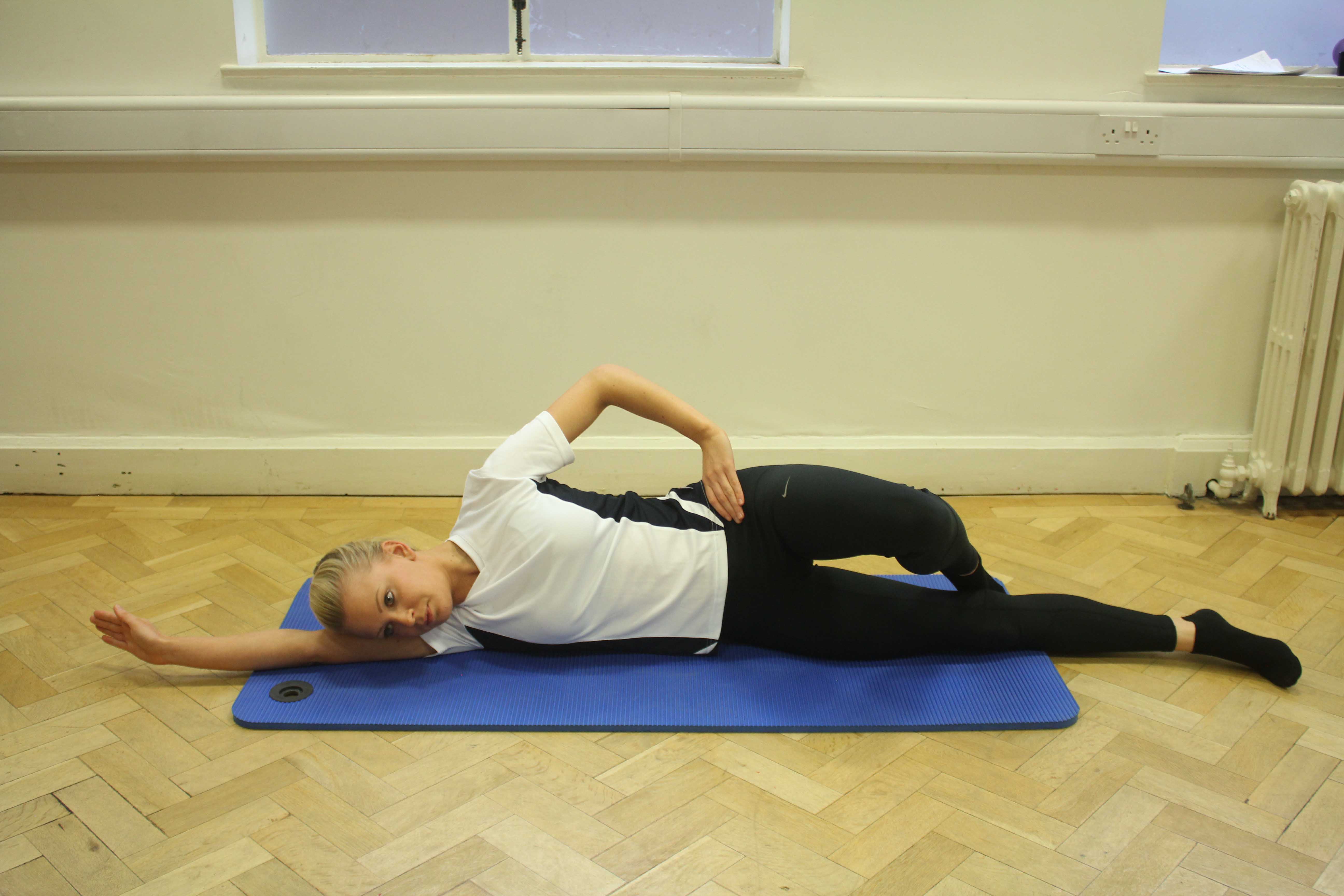 Above: Pilates based exercise can help with gluteal buttock strains
What are the symptoms/effects of a gluteal strain?
The main symptom of a gluteal strain is pain. You may experience pain when walking up or down stairs, sitting and when moving backwards. Other symptoms may include:
Stiffness in the gluteal muscles
Weakness of the gluteal muscles
Bruising on the buttocks (if blood vessels are broken)
Diagnosis of a gluteal strain
A physiotherapist or doctor will examine your hips, buttocks and legs and find that you have tenderness in the gluteal muscles which will confirm a diagnosis.
Physiotherapy for a gluteal strain
At Manchester Physio we provide individualised assessment and treatment for people with gluteal strains.
The goal of physiotherapy is to return you to your sport and everyday activities as soon as is safely possible. If you return too soon you may worsen your injury, which could cause more damage.
Your physiotherapist at Manchester Physio will support you through a progressive treatment program tailored to you which may include:
Advice on how to change your sporting activity while your injury is still healing
Ice/Heat therapy to promote healing and reduce pain
Ultrasound to accelerate healing
Soft tissue massage to reduce muscle tightness
Stretching exercises to increase joint range
Buttock hip and leg strengthening exercises
Sport specific exercises
Gradual return to activity
Return to you sport or activity will be determined by how soon the injury area recovers not by how many days or weeks it has been since your injury occurred.
It is important to commence physiotherpay treatment as soon as possible to hasten your recovery and get you back to your activities sooner.
For more information as to whether you would benefit from physiotherapy, or to book an appointment please call
0161 883 0077
.