Neurological rehabilitation involves assessment and treatment of the physical problems caused by an individual's neurological condition.
At Manchester Physio our specialised neurological physiotherapists commonly treat children and adults that have problems with the brain, spinal cord or peripheral nerves. People with neurological conditions may have difficulties with their physical functions including mobility, muscle strength, range of movement and balance.
Neurological Physiotherapy aims to increase the quality of life of people with neurological conditions through physical means. At Manchester Physio neurological rehabilitation will maximise your potential with activities of daily living, slow down physical deterioration and help children with disabilities achieve developmental milestones.
Our neurological physiotherapists combine a number of treatment techniques to provide the most beneficial care. These include the Bobath Concept (normal movement), the Carr and Shepherd Concept (motor relearning), the Brunnstrom Approach (synergistic movement) Conductive Education and functional rehabilitation.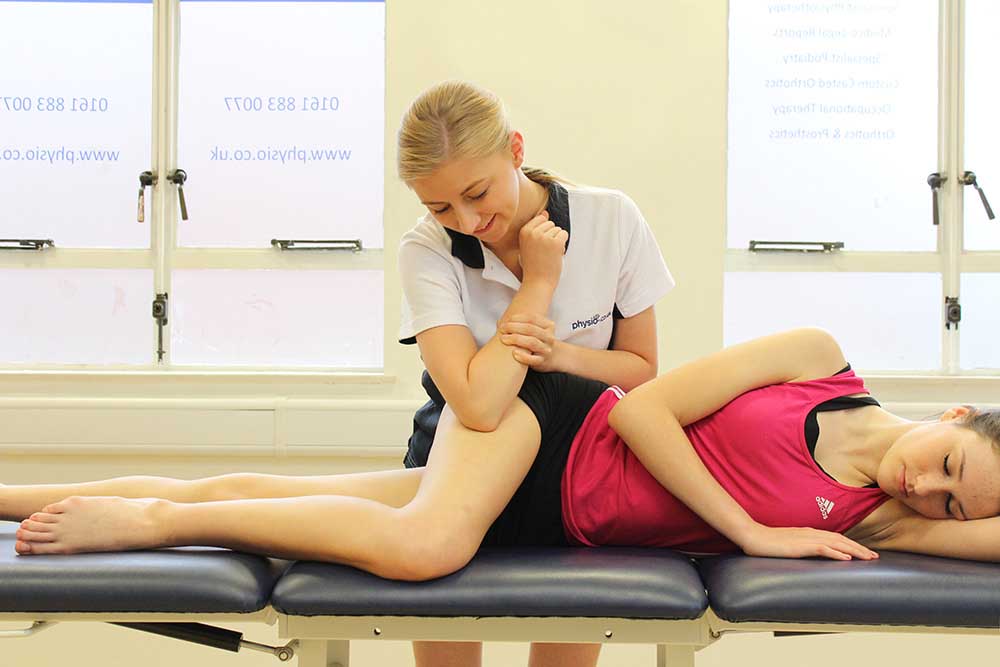 Above: Deep tissue massge of the vastus lateralis muscle by a specilaist physiotherapist
Every person with a neurological condition presents differently. Treatment will be focused on your condition and symptoms. Physiotherapy treatment may include:
Activities based around daily tasks to help improve bed mobility, walking, climbing the stairs, shopping and gardening
Restoring normal movement patterns
Exercises to increase muscle strength and flexibility
Balance training
Stretching to lengthen tight muscles to help decrease spasticity and reduce contractures
Correcting and varying posture and body awareness education when sitting, sleeping and lifting or with exercise.
Neurological physiotherapy should commence as soon as possible following injury for the best possible recovery. Neurological rehabilitation will increase your independence and confidence with everyday activities and improve your quality of life. Our motivated physiotherapists at Manchester Physio will also help you achieve your maximum potential.
At Manchester Physio our physiotherapists also work in conjunction with podiatrists and occupational therapist who can provide additional treatment and equipment if necessary.
If you would like more information on how neurological rehabilitation can help you or your loved one please call
0161 883 0077
,
book online
or alternatively
contact us
.