What is a dislocated finger?
A dislocated finger is a common injury characterised by tearing of the connective tissue surrounding one of the finger joints, due to excessive forces placed on the finger, which causes displacement of the bones, so they are no longer situated next to each other.
Damage to other structures such as tendons and bones may also occur as a result of a finger dislocation.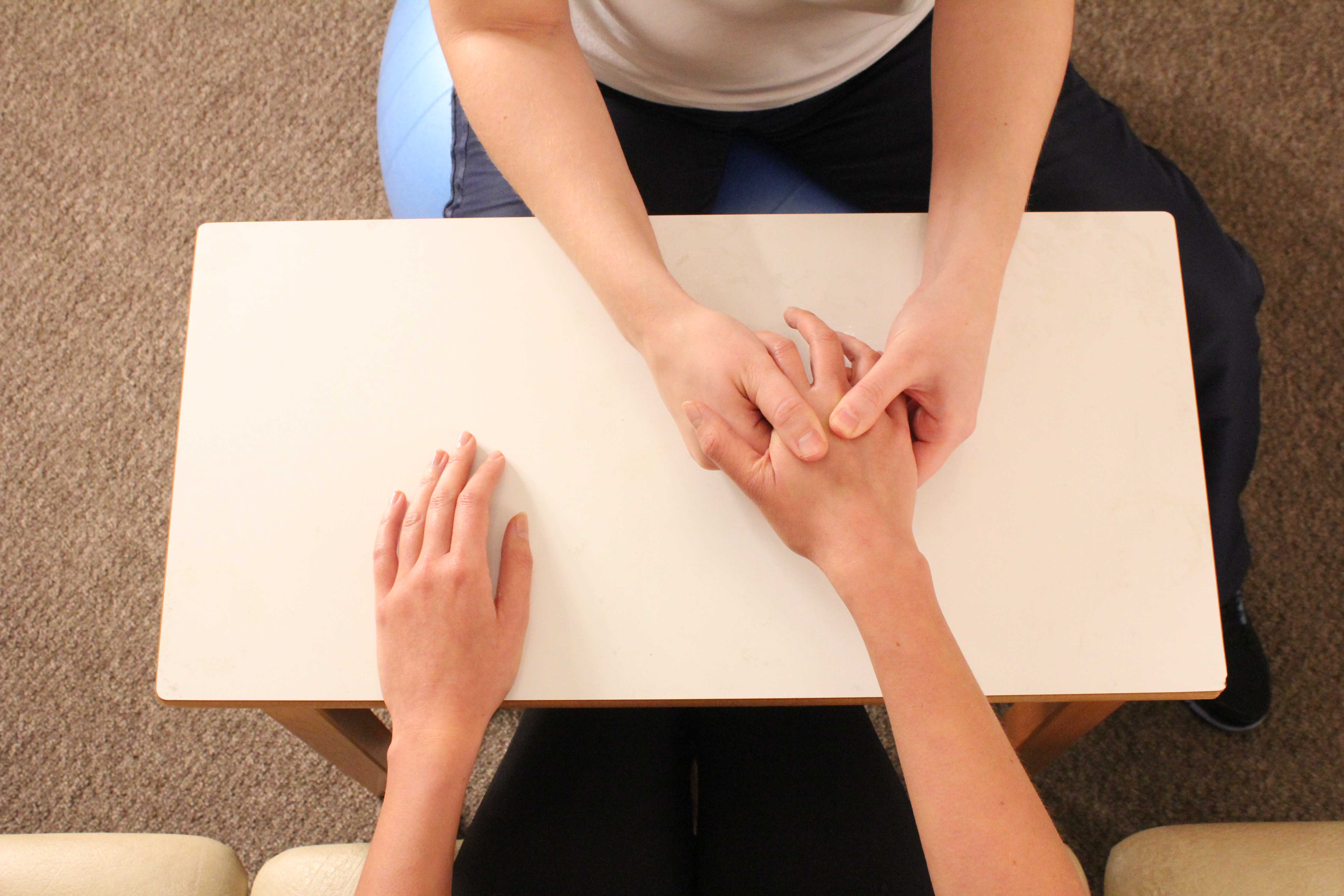 Above: Therapist soft tissue massage of the metacarpals and connective tissues in the hand
What causes of a dislocated finger
Dislocated fingers commonly occur in sporting activities such basketball, netball, cricket or football, when a specific incident bends the finger forcefully in the wrong direction (such as a hyperextension force or a sideways force). A direct blow to the point of the finger or a collision with another player may also cause a dislocation.
What are the symptoms/effects of a dislocated finger?
Symptoms of a dislocated finger include sudden onset of intense finger pain during the acute incident. This may be accompanied by a visible bump or deformity, swelling and bruising. These symptoms may be made worse by everyday activities such as opening jars or doors, writing, picking up objects and gripping.
Diagnosis of a dislocated finger
A thorough subjective and objective examination from a physiotherapist or a doctor will confirm a diagnosis of a dislocated finger. X-rays are also taken to rule out fractures and assist with diagnosis.
Physiotherapy for a dislocated finger
Treatment for a dislocated finger usually involves immobilisation in a splint for a number of weeks to allow the damaged connective tissue to heal and form a 'scar'.
Physiotherapy treatment at Manchester Physio will commence with gentle exercises to maintain movement and strength and to prevent stiffness and pain. When the splint is removed your physiotherapist at Manchester Physio, will continue to advise you about activities and exercise to improve stability of the joint, prevent re-injury and get you back to everyday and sporting activities safely and effectively.
At Manchester Physio, physiotherapy for a dislocated finger will accelerate the healing process and ensure that you make the best possible recovery. Physiotherapy treatment may comprise of:
Ice therapy and ultrasound initially to reduce swelling and pain
Finger bracing or splinting
Gentle range of movement exercises while the finger heals
Advice about how to modify everyday activities and prevent re-injury
Progression of exercises once the splint is removed to improve flexibility and strength in the wrist and hand
Soft tissue massage to reduce stiffness
Passive stretching to lengthen tight muscles
Your treatment program at Manchester Physio will be specific to you and your hobbies and will ensure that your finger is returned to its original function and strength as soon as possible.
For more information about physiotherapy for a dislocated finger, or to book an appointment please call
0161 883 0077
.