Manchester Physio provides a range of occupational health services to minimise the risk of injuries in the workplace. The specialist musculoskeletal physiotherapists are experienced at assessing and treating a variety of work-related injuries. They are able to provide the best advice on how to reduce the potential of re-injury and stay active whilst at work.
Manchester Physio provides occupational health assessments for a number of different workplaces including:
Office workers
Factory based workers
Packers
Care staff
Call centre workers
The physiotherapists at Manchester Physio offer a variety of occupational health services depending on the specific needs of the individual. A tailored treatment programme will be provided and progressed according to the employees goals. The occupational health services include:
DSE assessments
Manual handling training
Postural advice and exercise programmes
Provision of specialist equipment and adaptations
Back care classes
Return to work rehabilitation programmes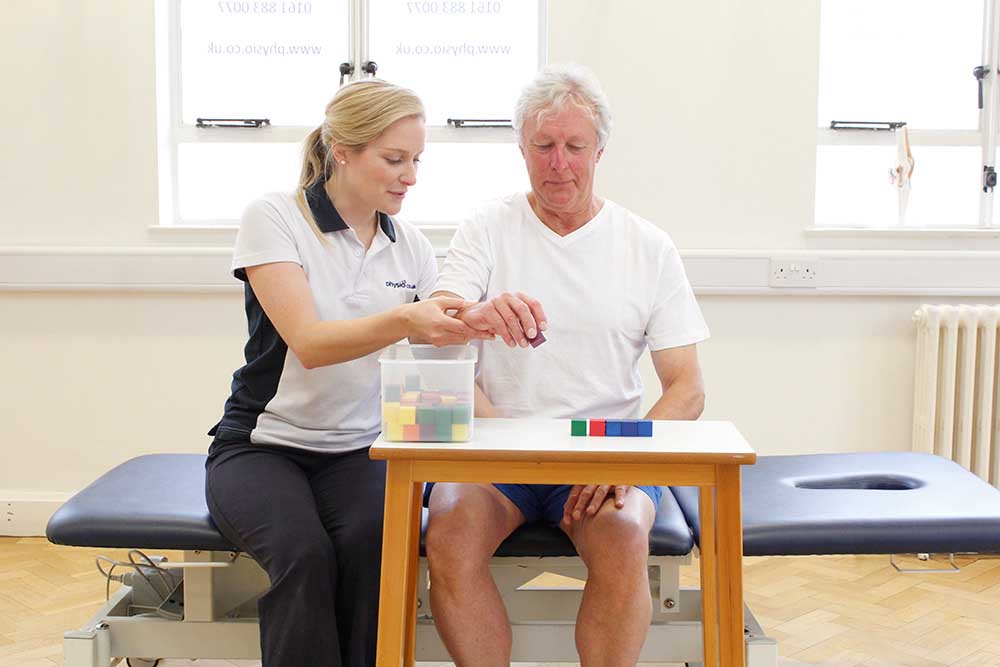 Above: Fine motor skill exercises supervised by a specilaist neurological physiotherapist
It is important to have a fit and active workforce to maximise productivity and reduce the number of absences related to injuries sustained in the workplace.
For further information on the occupational health services provided by Manchester Physio or to book an appointment, please call
0161 883 0077
.