What is osteoarthritis of the hand?
Osteoarthritis is damage and loss of cartilage that surrounds the bones in the hand, which results in stiffness and pain. Osteoarthritis commonly develops at the base of the thumb, at the joint closest to the finger tip, and the middle joint of the finger.
Physiotherapy treatment for osteoarthritis will help you manage your symptoms and improve your independence and quality of life.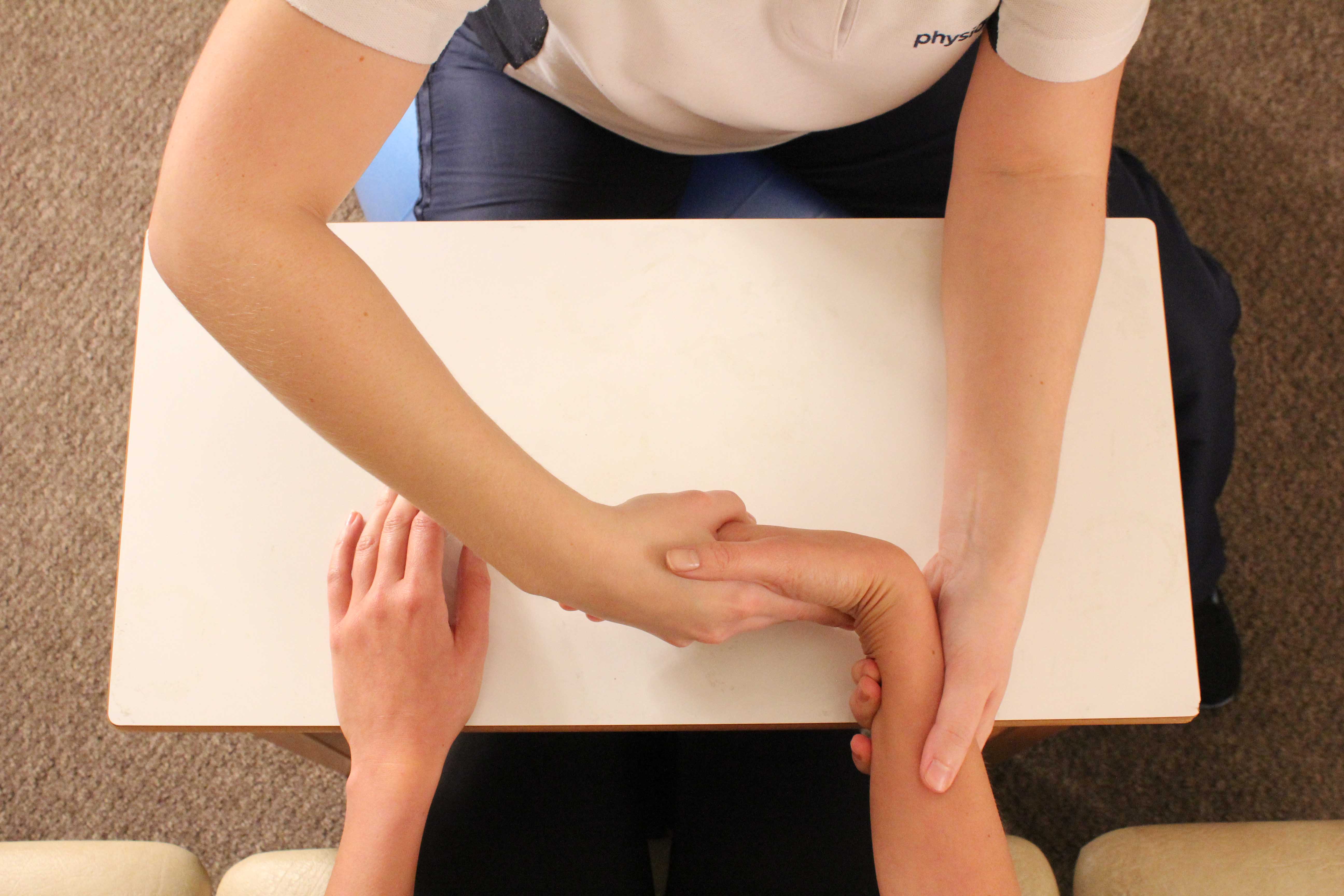 Above: Our physiotherpaist can provide you with effective treatment to help with the management of osteoarthritis.
What causes osteoarthritis of the hand?
Osteoarthritis can be caused by repetitive use of a particular joint in the hand. In some people osteoarthritis is secondary to pre-existing damage to the joint for example, caused by fractures, ligament injuries, maldevelopment of the bone or joint or other types of arthritis.
What are the symptoms of osteoarthritis of the hand?
Symptoms of osteoarthritis may include:
Stiffness and pain in the wrist joint
Reduced range of movement
Your wrist may fill with fluid and feel tight, especially after using it.
Diagnosis of osteoarthritis of the hand
A diagnosis of osteoarthritis can be made by a physiotherapist or doctor who will conduct a thorough subjective and objective assessment.
Physiotherapy for osteoarthritis of hand
A person with osteoarthritis affecting their hand will benefit from physiotherapy treatment.
An initial assessment with one of our specialised physiotherapists will look at your current symptoms, range of movement, muscle strength and function in order to develop a rehabilitation program centred on your needs and lifestyle.
Physiotherapy treatment at Manchester Physio may include:
Heat therapy to reduce pain and stiffness
Soft tissue massage to relieve tension and aching joints
Advice about wrist braces and supports that may help to reduce your pain during activity
Range of movement strengthening exercises to protect the joint from shock and stress and improve grip, dexterity and coordination.
Advice about how to modify activities and avoid certain movements such as lifting and carrying heavy loads to provide some relief and increase independence
Physiotherapy treatment at Manchester Physio will reduce pain, help to maintain wrist and hand function and increase the muscle strength, so that you can continue with your everyday activities with less pain and stiffness.
If you would like more information about physiotherapy for osteoarthritis of the hand, or to book an appointment please call
0161 883 0077
.