What are Gait Problems?
A gait problem is an umbrella term used to describe problems with a child's walking pattern which may be caused by a number of different factors. When a child first learns to walk their gait pattern is different to that of an adult with a wider stance and shorter, faster steps. It is not until around age three that a child's walking pattern begins to resemble that of an adult. In some cases however, a parent may notice abnormalities in their child's walking pattern.
Types of common gait problems
Tip-Toe Walking is when a child walks on their tip toes rather than using their whole foot when walking. This is relatively common and normally resolves by the time a child reaches school, however if the pattern persists an assessment should try and establish the cause such as muscle tightness or joint stiffness.
Knock Knees (genu valgum) is when a child's knees rub or knock together but the ankles remain apart when walking. This is quite common and concerns should only arise if this persists after the age of six. Assessment can then determine the cause of knock knees such as tightness in the hip muscles or altered foot posture.
Intoeing (pigeon toes) is when a child's foot position turns inwards when walking instead of straight ahead which in severe cases may cause the child to trip over or fall. This usually resolves without treatment but if the pattern persists and is problematic to the child an assessment is recommended.
How can Physiotherapy help gait problems?
A physiotherapist can help to establish reasons behind types of gait problem such as muscle imbalance, tightness or weakness and joint stiffness. Our physiotherapists can provide exercises and advice to improve the quality of a child's walking pattern in order to maximise their potential and quality of life.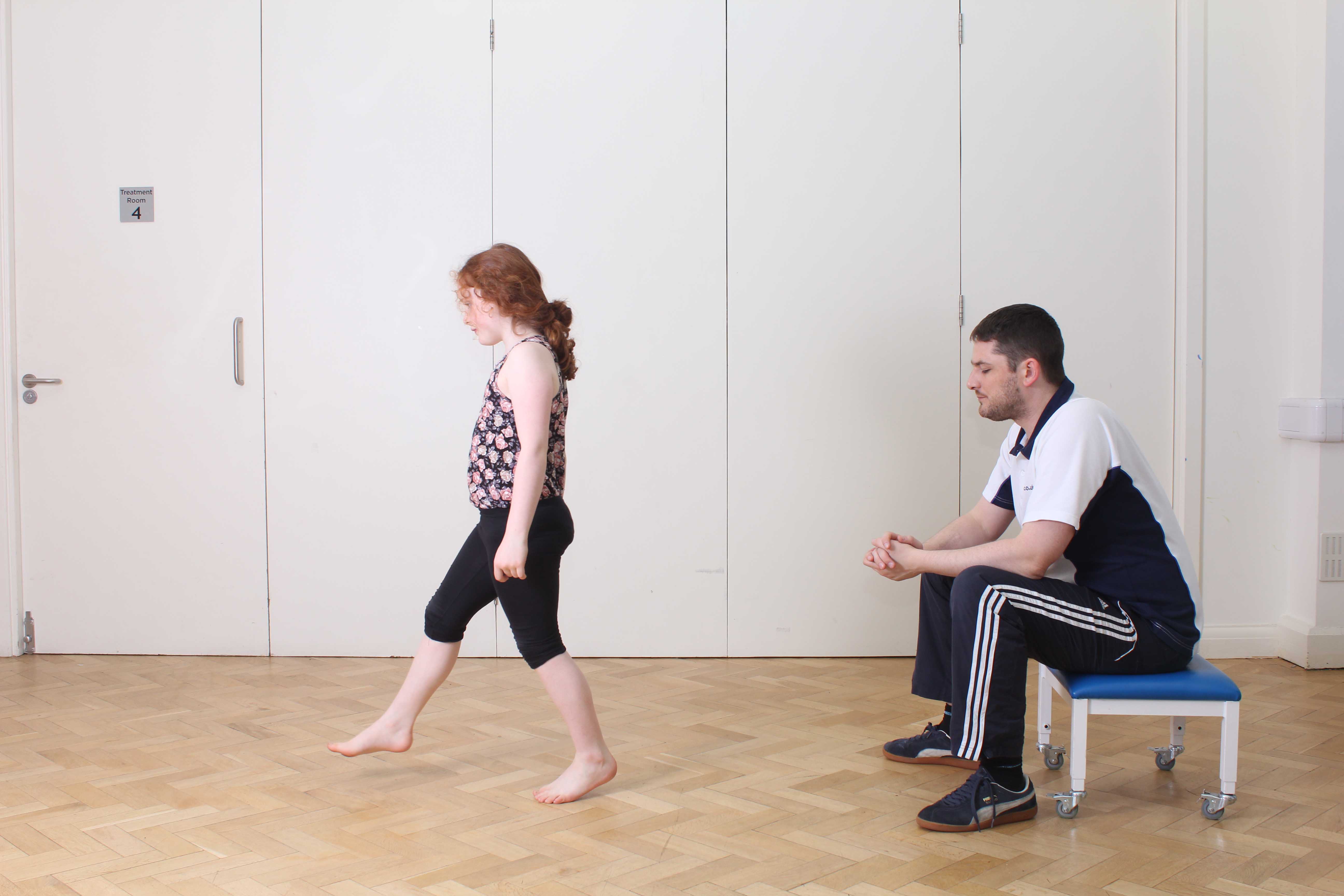 Above: Physiotherapy can help correct any abnormal gait patterns.
Why Manchester Physio?
No waiting lists for assessment
Specialist assessment
One on one treatment
Patient centred approach
Access to foot specialists if appropriate
Motivated, caring staff
Provision of specialist equipment
Proven track record
We understand that gait problems can be problematic for children. Our team of specialist paediatric physiotherapists can provide assessment and treatment for your child to improve their walking pattern in order to be as functional as possible.
Manchester Physio are able to provide treatment of gait problems across Greater Manchester and Cheshire. We can provide assessment and treatment at our clinic, a child's school or at your home for your convenience.
See our
testimonials
to read about the experiences of current and past patients.
To find out more please
contact us
or arrange a
free phone consultation
.