What is Golfers elbow?
Golfers elbow or medial epicondylitus is a very similar condition to tennis elbow which is characterised by pain that affects the inside of elbow. Golfers elbow is of an overuse nature, associated with work-related or sporting activities.
What causes Golfer's Elbow?
There are many activities that can cause Golfer's Elbow such as working out at the gym or simply working in front of a computer for prolonged periods. These activities use the same muscles (wrist flexors and forearm pronators) repetitively and can result in the inflammation of common flexor tendon of the wrist where it attaches at the inside of the elbow. The causes of Golfer's Elbow are similar to tennis elbow but pain and tenderness are felt on the inside of the elbow, on or around the joint's bony prominence.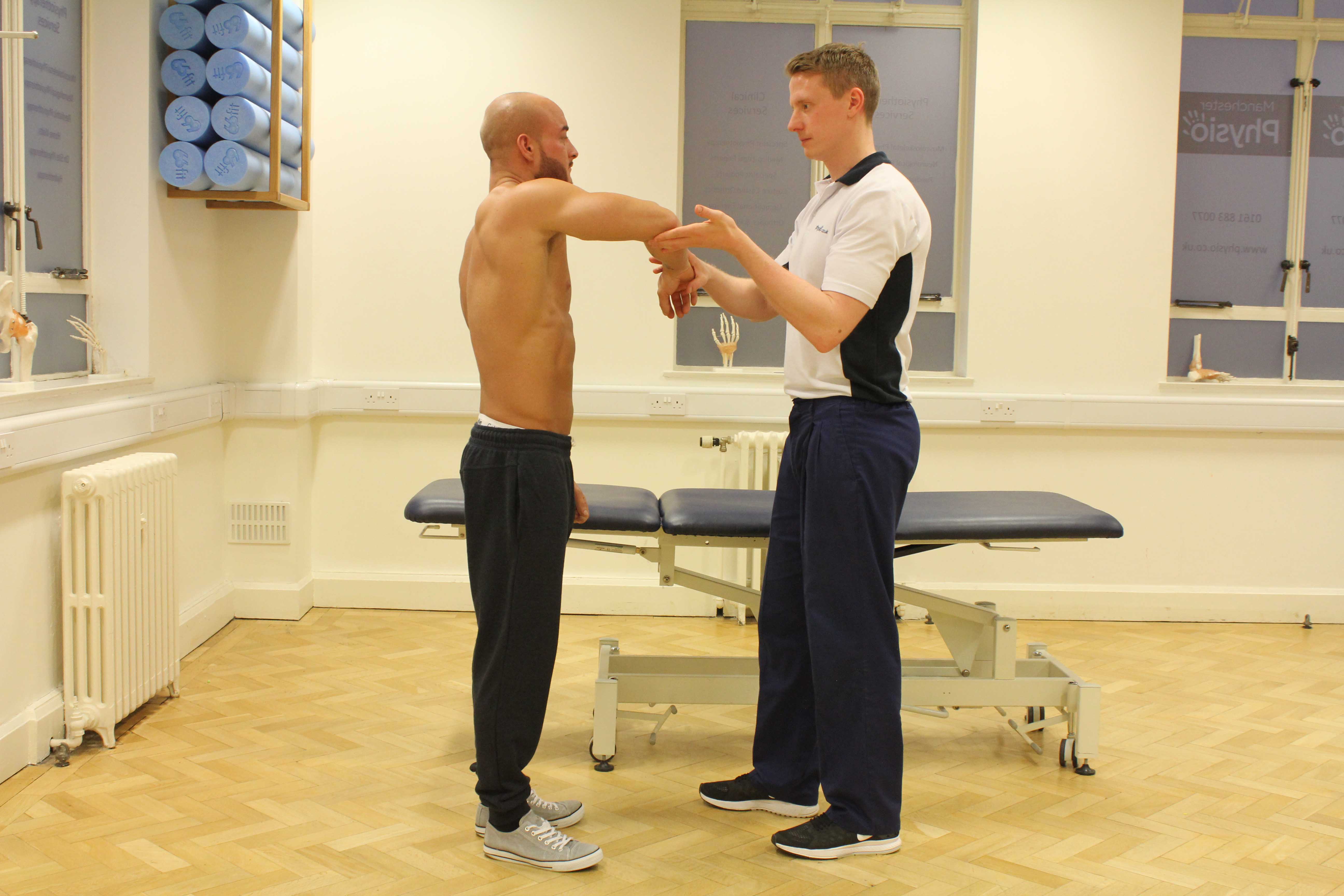 Above: Assessing upper limb range of motion in a client
What are the symptoms of Golfer's Elbow?
Symptoms include tenderness and pain at the inside of your elbow, made worse by bending the wrist, grasping and turning the palm downwards (pronation). The pain may also spread down the forearm.
Diagnosis of Golfer's elbow
A physiotherapist or doctor will confirm a diagnosis of Golfers elbow after a physical examination of your elbow.
Physiotherapy for Golfer's Elbow?
Physiotherapy treatment at Manchester Physio will reduce your pain and facilitate your recovery by developing an individualised program suited to you. Your physiotherapy program at Manchester Physio may include:
Neural and flexor muscle stretches, and progressive conditioning exercises to strengthen the area and prevent re-injury.
Massage to relieve stress and tension in the muscles
Myofascial release of the muscles around the elbow
Acupuncture
Electrotherapy
Advice about supportive clasps or splints to off load the tendons during recovery
Advice about steroid injections for persistent pain
At Manchester Physio your physiotherapist will advice and support you throughout your treatment to ensure you make the best possible recovery and go on to make long term improvements to prevent re-injury.
For more information about physiotherapy for Golfer's elbow, or to book an appointment please call
0161 883 0077
.