What is a Stiff neck?
A stiff neck is a condition that causes stiffness, immobility and pain to the neck that may originate from any of the structures in the neck. These structures include muscles and nerves as well as spinal vertebrae and the cushioning discs in between. Neck pain may also come from regions near the neck, like the shoulder, jaw, head, and upper arms.
What causes a Stiff neck?
A common cause of a stiff neck is muscle strain or tension. Usually, everyday activities are to blame. Such activities include bending over a desk for hours, having poor posture while watching TV or reading, placing your computer monitor too high or too low, sleeping in an uncomfortable position, or twisting and turning the neck in a jarring manner while exercising. Traumatic accidents or falls can cause severe neck injuries like vertebral fractures, whiplash, blood vessel injury, and even paralysis.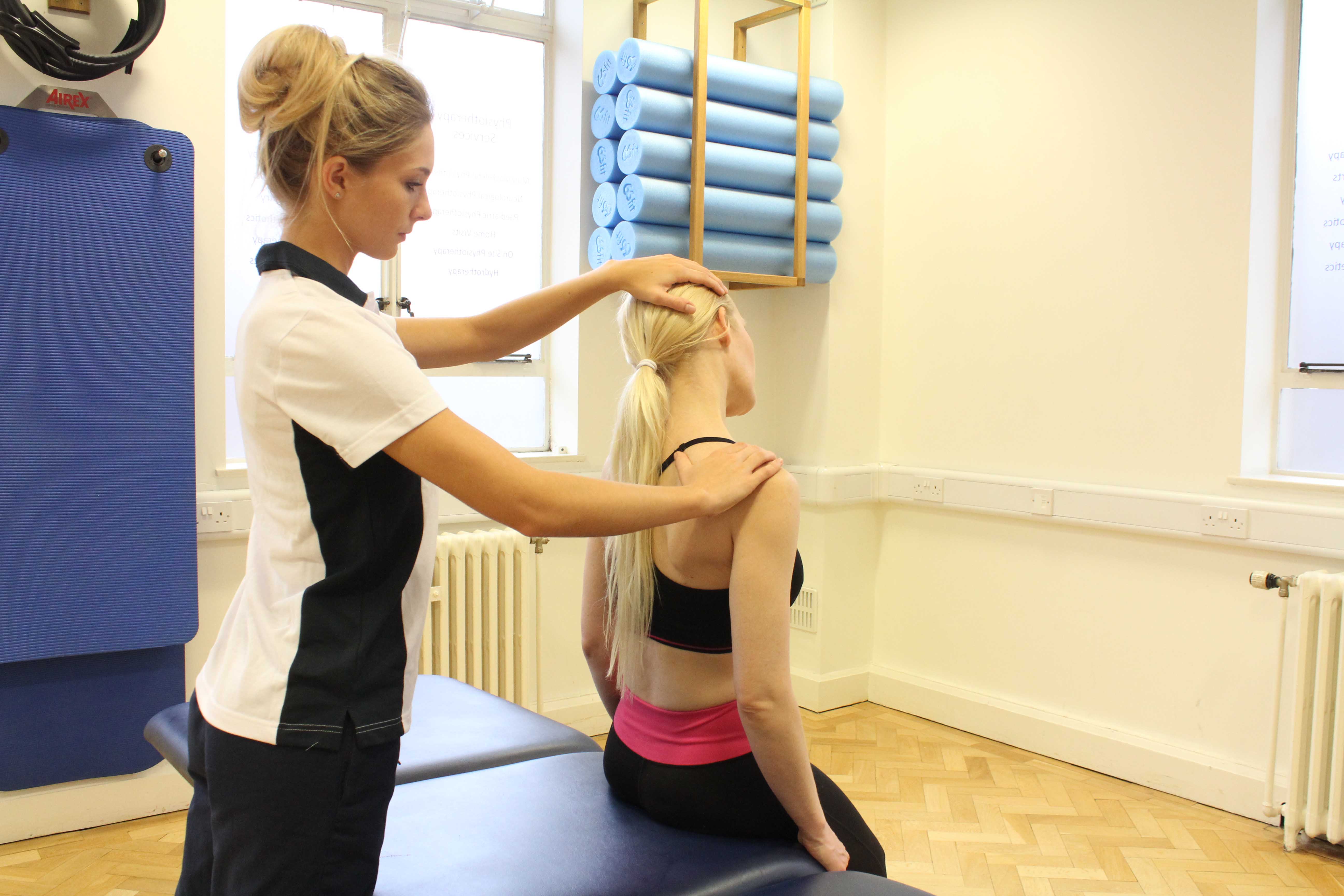 Above: A passive stretch to help a patient with a stiff neck.
What are the symptoms of a Stiff neck?
Symptoms of a stiff neck include:
Pain
Difficulty moving your neck, especially to one side.
Muscle spasm
Numbness, tingling, or weakness in your arm or hand if a nerve is being irritated
Physiotherapy treatment for a Stiff neck?
Physiotherapy treatment at Manchester Physio will relieve pain and stiffness and improve your physical function making everyday activities, work and sleeping easier and more manageable.
Your physiotherapist at Manchester Physio will initially assess your pain, range of movement and strength in order to develop a structured rehabilitation program which may include:
Heat therapy to relieve stiffness
Exercise programmes and stretches to improve range of movement and strength
Gently soft tissue massage to promote healing
Trigger point therapy
Acupuncture
Postural and sleeping advice and adaptations.
Physiotherapy treatment at Manchester Physio will restore you functional ability so that you can return to daily tasks with confidence and independence
If you would like more information about physiotherapy for a stiff neck, or to book an appointment please call
0161 883 0077
.