What is biceps tendinopathy?
Biceps tendinopathy is a term which describes pain and tenderness in the shoulder region due to degeneration and/or inflammation to the biceps tendon. This may occur traumatically due to a high force going through the biceps tendon such as lifting heavy weights or falling on an outstretched hand or due to gradual wear and tear associated with overuse.
What causes biceps tendinopathy?
Biceps tendinopathy can be caused by many factors including:
Poor lifting techniques
Long term repetitive activities placing strain on the biceps tendon
Shoulder Impingement
Poor posture
Direct trauma such as a fall
Wear and tear of the tendon (degenerative changes)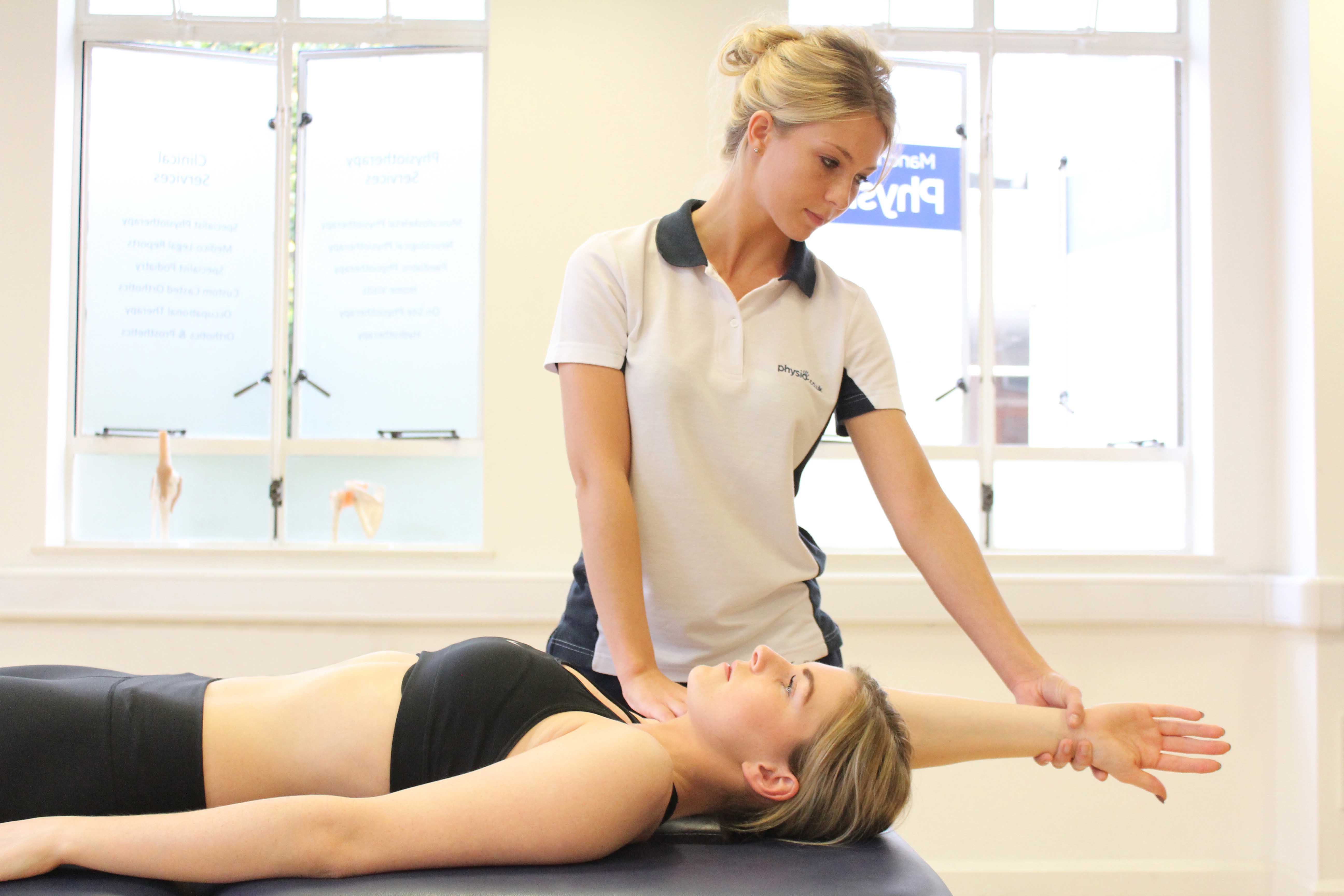 Above: Upper arm passive stretch exercises applied by therapist
What are the effects/symptoms of biceps tendinopathy
People with biceps tendinopathy experience pain in the front of the elbow which may increase with activity during activity such as carrying heavy shopping, performing biceps curls or chin ups.
Occasionally people may notice swelling at the front of the elbow and experience weakness when attempting to lift objects.
Diagnosis of biceps tendinopathy
A thorough subjective and objective examination from a physiotherapist or doctor will diagnose biceps tendinopathy. Occasionally, further investigations such as an ultrasound, X-ray or MRI scan may be required to assist with diagnosis and assess the severity.
Physiotherapy for biceps tendionpathy
Early physiotherapy treatment is vital to promote recovery and for long term success.
At Manchester Physio, our specialised musculoskeletal physiotherapists will develop an individualised and graduated rehabilitation program to ensure an optimal outcome. Your physiotherapist at Manchester Physio will also advise you on the exercises most appropriate for you and when they should be commenced.
Physiotherapy treatment at Manchester Physio may comprise of:
Ice or heat treatment to reduce swelling and pain
Soft tissue massage to relieve pain and stiffness
Ultrasound to accelerate healing
Stretching exercises
Joint mobilisation
Exercises to improve strength and flexibility
Advice and support on how to modify your activity
Your physiotherapist at Manchester Physio will guide you through the best course of treatment in order to relieve your pain and improve your success with every day and sporting activities.
For more information about physiotherapy for bicep muscle tear, or to book an appointment please call
0161 883 0077
.